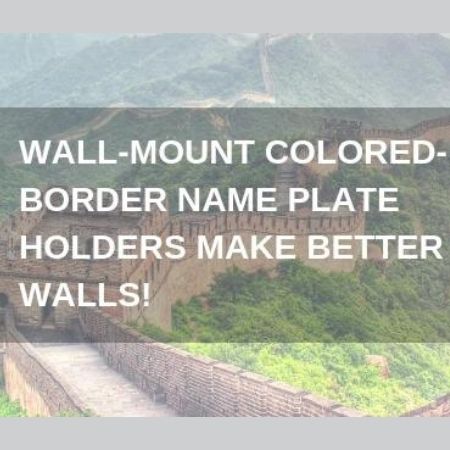 Wall-Mount Colored-Border Name Plate Holders Make Better Walls!
There's been much discussion about walls the last two years. Of course, the world's best-known is the Great Wall of China. The Great Wall was originally a series of smaller, disconnected structures dating back to the 7th century BC. It took the Ming Dynasty (1368-1644) to connect, rebuild, and fortify it. After centuries of grueling construction, the Great Wall and all its' branches today measure nearly 21,200 miles!
That's a lot of wall space and hard to say just how many Colored-Border Name Plate Holders it would fit. But no matter how large or small the wall space in your facility, there's a unique new look available to showcase name and title inserts: Style NPW Wall-Mount Colored-Border Name Plate Holders.
Composed with polished edges and premium thickness .092 acrylic, this Name Plate Holder mounts flush to walls with an eye-catching bend at the bottom. Inserts slide in from the side, framed in stylish Silver or Black.
The colorful new look of this Bordered Name Plate Holder is easy to install straight out of the box, delivering a dynamic look at eye level that both blends into your décor with a flush approach yet stands out with your choice of color schemes.
Flexibility's another nice benefit: sizing can be customized to your specifications. Regardless of name plate dimensions, inserts are easy to replace and complement your interior nicely with Colored-Border Name Plate Holders adorning your walls. They stand up well to fading, scratches, and discoloration, making Style NPW a smart investment.
By the way, wondering how the Great Wall was maintained post-Ming Dynasty to present day? The Qing (Manchu) Dynasty (1644-1912) largely neglected it to try and pacify nationalities like Mongolia. Hard to believe, but it's estimated that nearly 1/3 of the Great Wall has disappeared entirely!