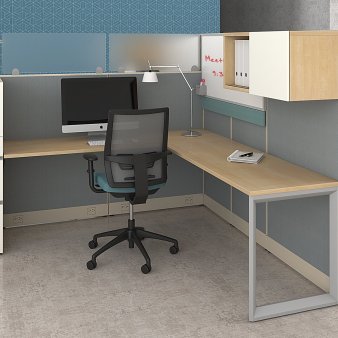 Wall-Mount and Cubicle Brochure Holders…and Ways to Achieve a Clean, Organized Office!
Some find it an exercise in futility. Others are fussy to the point of obsession…and still never satisfied. And then there's the eternal question: just how important is a clean, organized office? Can a tidy look somehow make you seem less productive or not very busy? Isn't a messy office supposed to symbolize genius-at-work? Einstein himself is quoted as saying that "if a cluttered desk is a sign of a cluttered mind, of what, then, is an empty desk a sign?" And just look at Steve Jobs' office…
Accumulated clutter can easily turn to chaos, though, and office spring cleaning season is under way. Researchers at Michigan State University dug even deeper, claiming that cleaner, more organized work spaces lead to higher productivity and more accurate performance.
Health and basic cleanliness were also crucial findings of the study. Germs, dirt, and poor indoor air quality add up to sicker employees and higher absenteeism. According to the CDC, businesses lose 111 million workdays a year due to the flu alone! Clutter contributes to that.
Even with more work environments' becoming less reliant on paper, proper document storage, retention, and display are still listed as high organizational priorities for efficient operations. Meeting that demand at eye level atop cubicle partitions and mounted on the wall? Enter Cubicle Brochure Holders and Wall-Mount Multi-Pocket Brochure Holders.
Word-of-mouth advertising and the trusty printed brochure are still credited for valuable contributions to sales revenue and brand awareness. Showcasing literature displays in easy-to-install Wall-Mount Multi-Pocket Brochure Holdersdelivers that spotlight clearly.
Partition/cubicle walls also become prime display opportunities and organizing tools, thanks to clear premium thickness acrylic. Cubicle Brochure Holders are designed to fit barrier width, reaching eye level comfortably – ideal for literature displays, promotions, and important documents.
One more office design idea "that promotes creativity and collaboration," courtesy of the Property Brothers? Add a whiteboard! Think of it as an extension of brainstorming space!