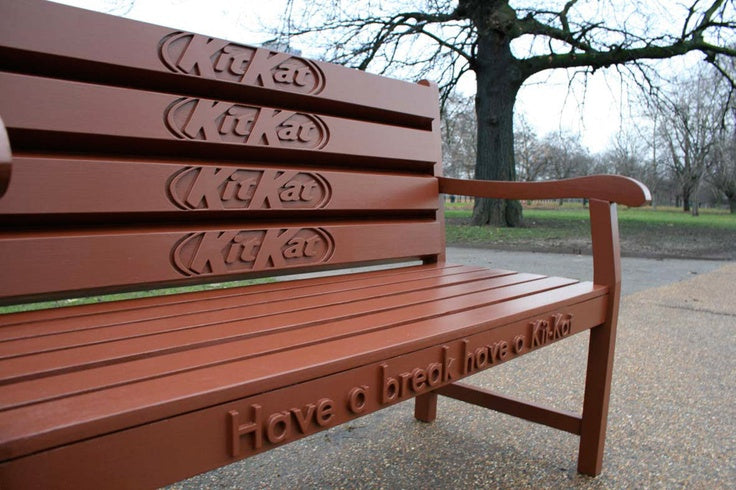 Top Marketing Ideas: With Cubicle Tiered Sign Holders, if you show it, they will come!
Capturing customer attention these days takes more creativity and ingenuity than ever.  Take the unconventional and sometimes brash, bold, in-your-face guerilla marketing approach.  It's a technique originally made popular with high energy, impromptu events in public places…typically pulled off to be memorable like a stunt and without much need for a budget.  Today's broader approach to guerilla marketing relies more on visuals than cheap stunts, like hand straps in public transportation artistically designed to look like wristwatches or oven mitts, and public benches designed to look like candy.
But you don't need to go crazy-guerilla to get your point across.  The folks at Forbes offer what they consider "unusual" marketing ideas that rely more on innovation and directly engaging customers.  Forbes even suggests ways to include both customers and advertisers in the campaign itself…creative possibilities that are ideally showcased in new Cubicle Tiered Sign Holders from Plastic Products Mfg.
Forbes cited a Brazilian promotion by Orca Chevrolet.  The Rescue Drive Campaign basically rescued stranded motorists and offered a test drive so they could make it to their destination without waiting for rescue elsewhere.  And to spark a recycling program, a Beer Turnstile Campaign let Brazil's train riders pay with empty beer cans of a certain brand following Carnivale.  This is called "being a hero to your community."  If you're trying to get the word out about a charitable event or fundraiser, you can also give it the Top View advantage from high above with Cubicle Tiered Sign Holders.
Premium thickness clear acrylic makes Cubicle Sign Holders super tough and resilient while providing visual acuity that draws the eye and accentuates your most recent promotions.  Details count, and that's where your graphics, colors, text, and distinctive fonts really stand out.  It's the prefect equation: your brilliant promotional literature in top quality Acrylic Cubicle Tiered Sign Holders. 
As for the suggestion to engage customers, one example given by Forbes was used by the Karl Lagerfeld Store in Amsterdam in 2013.  The store's dressing rooms offered customers a chance to share their new looks with social media and e-mail contacts via i-Pads and wall-mounted touch screens.  Customers could even create their own "lookbooks" with Instagram-style filters.  It's one more way to generate excitement among clientele and a feeling of inclusion with your brand.  This type of interactive media isn't for every business or professional facility…few, in fact.  But you can still speak directly to customers with incentives and a one-on-one call to action.  Showing options like hospitality, banking, or rental upgrades with a Top View Sign Holder can also be a very effective invitation at the point-of-purchase.  Make your message irresistible.  You have at least one entire language and a world of color at your disposal, and you can zero right into that customer directly.
The esthetic appeal and functionality of Plastic Products Mfg's new Cubicle Tiered Sign Holders are blended in the design.  The "hook" that holds it securely on cubicle and partition walls also holds your signage perfectly in place.  Installation is simple, so relocating and changing displays can be handled effortlessly.
The flexible attributes of acrylic also make custom sizing requests a breeze.  Style CSHH Clear Acrylic Tiered Sign Holders are already available in 10 standard sizes, but custom dimensions are easily accommodated on minimum orders.  By the way, when you're looking at depth varieties, remember that the measurement is equivalent to the width of your cubicle/partition wall.
Elevate your signage and promotional literature to a new level…literally!  With Cubicle Tiered Sign Holders, you'll be heads above the crowd with a message that can't be missed!