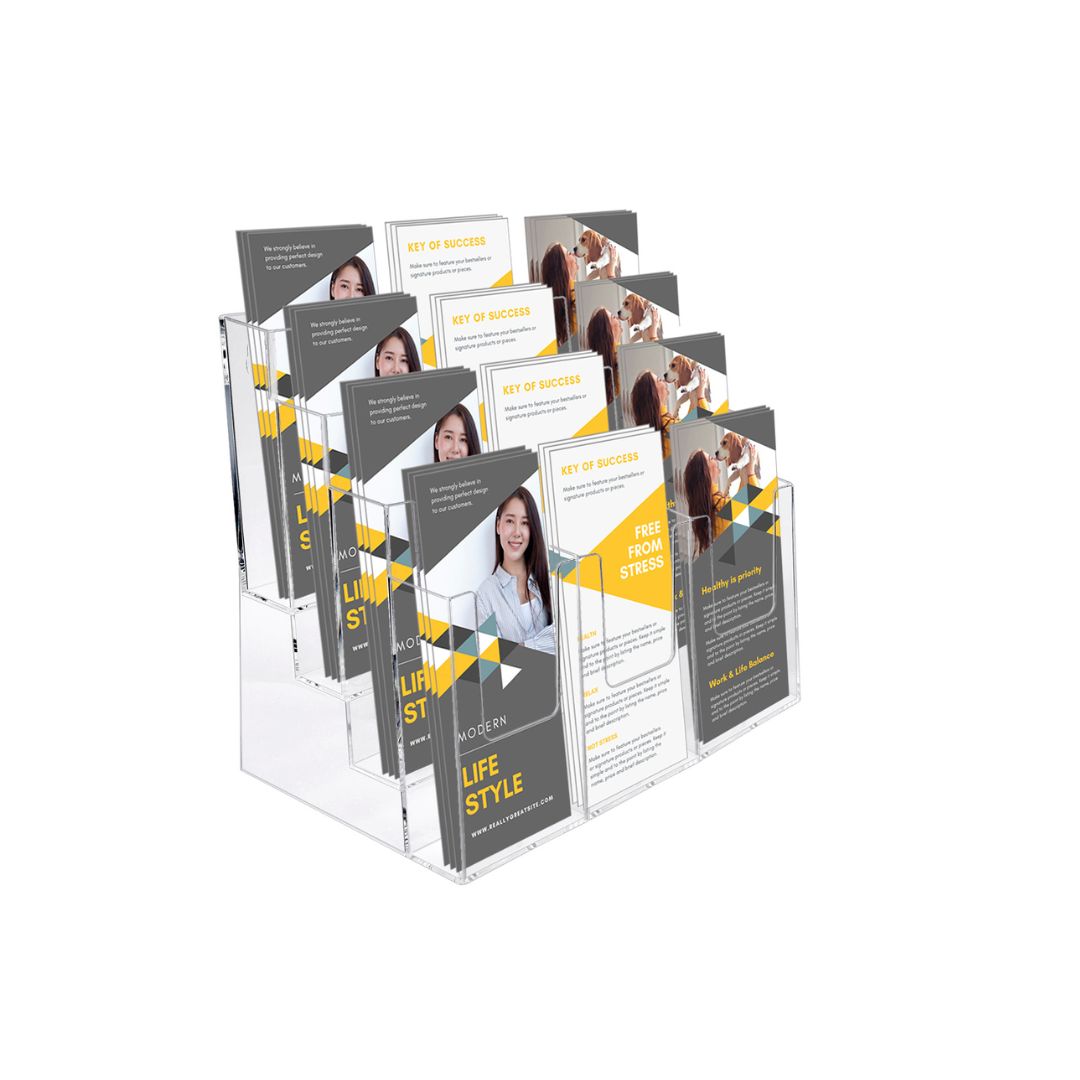 Top Benefits of Multi-Pocket Literature Holders
Looking for an efficient, organized, and aesthetically appealing way to disseminate a lot of information from a single point of interest? Multi-Pocket Brochure Holders are just the ticket! Our selection of eye-catching Acrylic Literature Holders makes displays easy, and the multiple pockets can help put out large amounts of brochure information without the need for constant refills.
That's just the start of a list of benefits and functions. The acrylic material itself is premium thickness for long-lasting durability and toughness. It delivers a modern appeal and keeping Acrylic Literature Holders clean is a breeze. That saves time and makes the overall display more attractive.
Another plus? Multi-Pocket Brochure Holders come in a nice variety of sizes, accommodating a range of brochure configurations. Promotional pamphlets come in numerous dimensions and our designs can be customized to match your needs. From education and information to hard sells and point-of-purchase displays, you can have your Multi-Pocket Brochure Holders geared to your promotional literature's size…not the other way around.
Versatility is also a key component in Acrylic Literature Holders. Any flat surface provides a prime display opportunity. And that goes for offices, stores, hospitality…even expos, home shows, and trade show booths. They're freestanding, portable, and easy to move so you can set up a display quickly on desks and countertops.
Draw passing foot traffic to your booklets, tri-fold brochures, and colorful pamphlets. Multi-Pocket Brochure Holders are like people magnets with an invitation to grab a flyer or brochure, spreading the word and earning measurable results! Displays also work successfully with rack cards and leaflets.
Acrylic Literature Holders can showcase more than flyers and brochures, too. Ribbons in retail and gift shops, promotional giveaways, and bookmarks at libraries and campuses all get noticed with an acrylic spotlight.
And did we mention the low cost to do all this? It's true. When you consider overall marketing expenses, the cost of Multi-Pocket Literature Holders is extremely minimal. And there's never been a better time to put them to work!