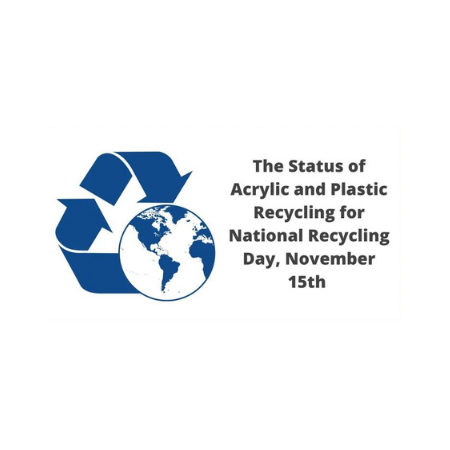 The Status of Acrylic and Plastic Recycling for National Recycling Day, November 15th
National Recycling Day falls on November 15th…a good time to look at some numbers. In the UK, 86% of plastic packaging and 78% of post-consumer plastic are saved from landfills and repurposed instead. According to the EPA, the thousands of tons of plastics recycled domestically more than doubled from 1,480 in 2000 to 3,090 in 2018.
Other figures are not as bright. For example, plastic bags in the oceans kill one million sea creatures per year, and of the five million plastic bottles used in America every hour, most end up in the trash.
Still, increased environmental concern has personal household, municipal, and business recycling efforts all on the rise. Higher grade materials and newer technology make more types of plastic more resource-efficient…and easier to reconstitute into other products. That makes plastic collection a smart move for businesses since reducing waste also reduces the cost of hauling it away.
As for those different types of plastic, PET and HDPE are the most recognizable. Acrylic and Styrene are also cost-effective and recyclable. It's also important to note that there are different forms of recycling. Mechanical recycling physically breaks down plastic without altering the chemical structure. Relatively newer chemical recycling does alter the chemical structure, which is ideal for mixing batches of different plastics, including food grade packaging.
Polystyrene can also be recycled up to 20 times without significant loss of its inherent properties and benefits. Recycling acrylic is also strongly viable. It can be blended with virgin material to produce lower cost products with superior structural integrity. In fact, recycled plastic is finding new life in plastic composite lumber for a busy construction industry. It's also used in clothes, carpeting, detergent bottles, and even recycling bins themselves.
As a leader in the plastics industry, Plastic Products Mfg. recognizes the importance of recycling and how helping the environment is a smart way to support the global economy. We have our recyclable materials picked up every week because we detest the word "waste" and find weekly pick-up a win-win solution. Many of our products are recyclable, including Acrylic Nameplate Holders, Acrylic Sign Holders, and Brochure Holders. It's not too late to join the fight…climb aboard and give plastic new life!