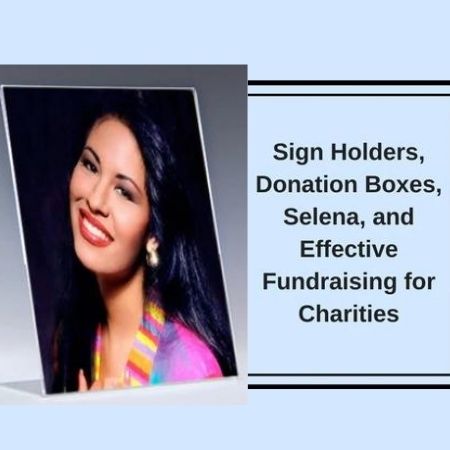 Sign Holders, Donation Boxes, Selena, and Effective Fundraising for Charities
In-store promotions working in conjunction with charities can produce a real win-win formula for worthy foundations AND brick-and-mortar environments. Just ask HEB, a San Antonio based grocery store chain that recently released a special edition Tote Bag with the likeness of Selena.
These special Tote Bags featuring the beloved singer were such a hit, lines stretched out the doors of several stores for the big release on a recent Friday morning. Combined with online sales, the bags sold out that afternoon.
Even better, HEB had a partner in the venture: the Selena Foundation, a charitable organization that captures the giving nature of the woman herself. Selena Quintanilla-Perez was not just the "Queen of Tejano" music. Tragically murdered in 1995 at just 23 years old, she was also involved with several charities, from educating children and the D.A.R.E. organization to HIV/AIDS awareness. Above all, she was a major spokesperson for battered women.
The joint effort was a huge success for HEB and the Selena Foundation, an exclusive partnership. Proceeds from tote bag sales have been designated for the Boys and Girls Club of Coastal Bend, and HEB also donated $25,000 directly to the Selena Foundation.
If you're involved with a charity or have an affiliation with worthy causes through your professional organization, the right marketing can add the spotlight for a successful outcome like HEB and the Selena Foundation realized.
When developing a campaign to draw customers and attract foot traffic, show them the way with specially designated Sign Holders and Acrylic Donation Boxes. Maximum visibility is the key and strategically placed crystal clear acrylic Sign Holders make an effective showcase for promotional literature.
Donation Boxes can be equally effective in premium thickness acrylic. Get the name out there with customized options and headers that read, for example, "All proceeds go to XYZ Charitable Organization." The invitation to give is hard to resist!
By the way, did you know that April 16 is Selena Day in Texas? In 1995, then Governor George W. Bush made it official, declaring her "the essence of south Texas culture."