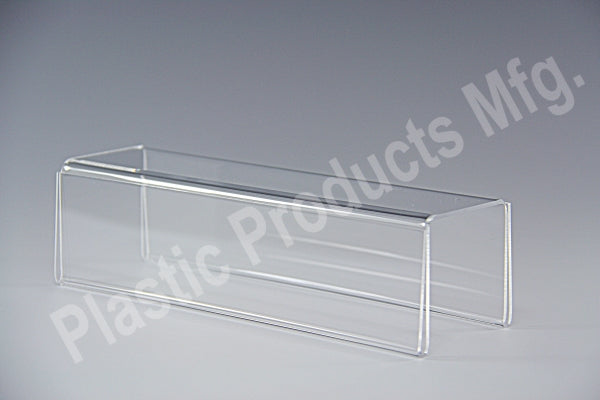 New Name Plates Are A Remarkable Promotional Display!
These Name plates have become one of our top sellers and let me share with you the benefits of ordering a name plate holder from us and why they're so popular.
Our Wall Mount Name Plate Holder style delivers dimensional versatility in seven standard sizes from 3" x 2" up to 11" x 2".   They're great for all types of businesses but what makes them such big sellers is the fact that we can customize them…any size, just ask.  No matter what the size, we make it easy for you and your staff to put up your Wall Mount Name Plate Holder with magnetic strips, Velcro, or double sided tape…be sure to request your preference when ordering and we'll include what you need.
Table Tent Name Plate Holders also carry a great deal of appeal.  Standing in a sturdy tent shape, this acrylic name plate holder loads from either side.  Like the slant back style, this display also works well with signs 3" x 2" up to 11" x 4-1/4".  There are many sizes in between and most cartons ship with quantities of 25 or 50.  Just let us know your desired dimensional specs.  The crystal clear acrylic really showcases name plates and signs well.
Cubicle Name Plate Holders offer an ideal solution in open work environments.  The acrylic with this style is designed in a uniquely inverted U-shape that fits a 2" deep partition perfectly.  A "lip" on one side is nearly as deep and allows for side loading.  Cubicle name plate holders fit perfectly on top of office partitions…just be sure you measure accurately before ordering.  The durable acrylic will take care of the rest!
There you have it…a few different options for showing staff names and pertinent signs in top quality at the best value for your budget.  These name plate holders will provide you with everything you're looking for in a name plate.