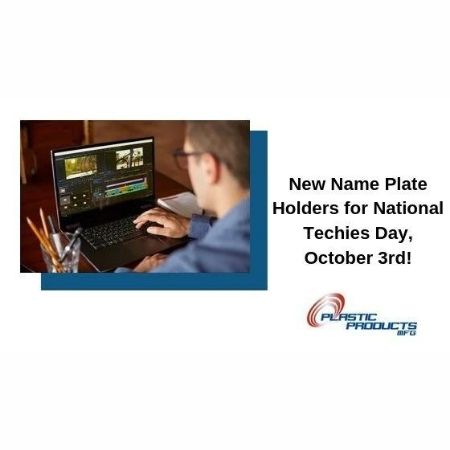 New Name Plate Holders for National Techies Day, October 3rd!
Throw out the image of the maligned, awkward, geeky nerd outcast. "Techies" are now the cool "in" crowd, a fact being celebrated October 3rd as National Techies Day. It's a great opportunity to thank those who fix your computer bugs on a regular basis, keeping you productive and taking the stress out of your workday.
Kidding and imagery aside, National Techies Day is observed annually with a mission: to encourage students in the pursuit of careers in technology. It's a job sector growing at high speed with opportunities projected in rapidly increasing numbers. Think of it as helping shape the work force of the future. Case in point, tech jobs in the U.S. are predicted to grow 22% by next year alone…far outpacing other sectors like service, retail, and manufacturing.
Increasing use of automation also plays a hand in this trend. In other words, expect fewer manual labor options in the future and more positions for those who know how to create, design, operate, handle, repair, and maintain driving technology.
As for the Techie or Techies in your office, there are a few ways to say thanks. Lunch is always an option. Cool, innovative Name Plate Holders are another! We have just the styles, too.
Clear Vinyl Computer Name Plate Holders are a nice way to say Happy Techies Day. The material is flexible, durable, and practically invincible. This Name Plate Holder fits computer monitors easily and securely, showcasing Techie names and titles with crystal clarity.
Another dignified look in Name Plate Holders? Check out Cubicle People Spotters™ …Acrylic Name Plate Holders with Colored Borders in Silver, Black, or White. They add a dynamic look to modern as well as traditional partitions.
Bordered Wall Nameplates are also popular with Black and Silver options. Easy to install at eye level, the combination of color with polished, premium thickness acrylic makes quite an impression!
Consider the possibilities for National Techies Day. Individual recognition goes a long way in the Gratitude Department and nothing emphasizes it more than just the right Name Plate Holder!