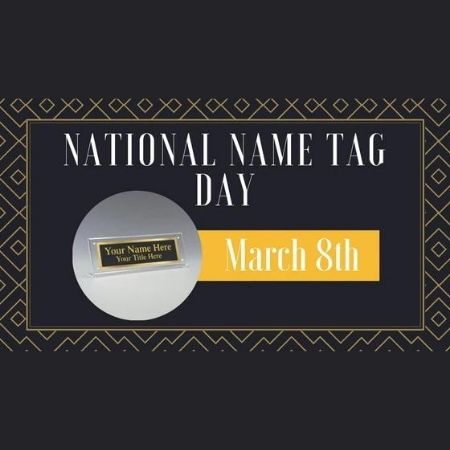 New Name Plate Holders for National Name Tag Day March 8th!
Isn't it time for a little name recognition? Believe it or not, March features an officially recognized celebration of the Name. "Celebrate Your Name Week" runs March 4 – 10, culminating with National Name Tag Day on March 8th. According to Mental Floss, the only hard rule is that you wear a "Hello, my name is…" tag and the name you choose doesn't necessarily have to be your real one!
Once the Name Tag Day party is over however, there remains the essential task of everyday name and title identification – and the best way to spotlight inserts with a dynamic new look and a modern flair for the aesthetic in professional environments.
The next generation of superior acrylic name plate holders has hit the scene for 2018. Unique designs in cubicle name plate hangers open a world of options, including the latest in Multi-Tier Cubicle Name Plate Holders that can accommodate up to five inserts. Imagine the possibilities, not only with department identification but also in directional signage and rotating on-site event announcements.
Making an even more colorful splash on desktop and countertops, NPA Name Plate Holders combine a traditional slant back display in premium thickness acrylic with bold borders in black or silver. It's an eye-catching frame for names…and an effective way to grab attention in busy foot traffic to show passersby directional signs and departmental designations.
NPS Name Plate Holders accentuate that look even more with stainless steel standoff posts. The metallic posts in each corner help draw attention and lock focus on your insert templates, securing those inserts between polished acrylic plates while adding support to the display itself. Black and silver color options reach more eyes, more effectively.
All these models are built to last with clear acuity. And what better time to order than National Name Tag Day? By the way, there's another early March holiday that features just ONE name: National Alfred Hitchcock Day, March 12th!