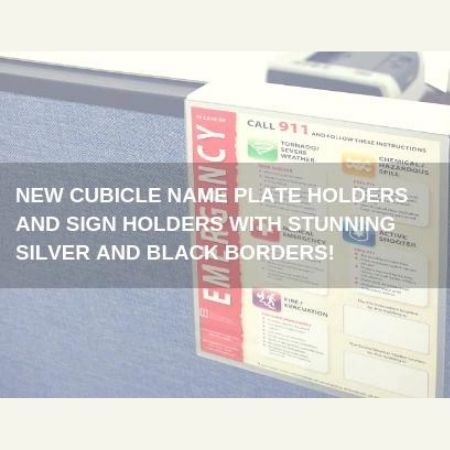 New Cubicle Name Plate Holders and Sign Holders with Stunning Silver and Black Borders!
The subject of borders has been a hot topic of debate lately, especially in this recent election cycle. We'd like to share a different take on a different kind of border…a more colorful approach in borders that has nothing to do with geography or politics.
We speak of the new colored-border options now catching the eye and directing attention toward Cubicle Sign Holders and Double-Sided Cubicle Name Plate Holders. The choice to make in 2018 is not so much about red or blue: it depends on your preference for black or silver!
Our first two candidates are Acrylic Cubicle Sign Holders with Silver Borders (CSHL SSS) and Black Borders (CSHL SSB). At 8-1/2" wide x 11" high, these standout Sign Frames deliver exceptional appeal and express your message vividly. These attractive displays effectively draw the eye to signage, from event promotions to timely sales info.
Of course, it's important to consider perspective from both sides of the cubicle. Enter our next two candidates, giving a new meaning to name recognition. Double-Sided Cubicle Name Plate Holders really accentuate name and title inserts with Black Borders (PNH2 SSB) and Silver Borders (PNH2 SSS). Designed to fit securely on partition walls, these dynamic Cubicle Nameplates give prominence to both sides in an 8-1/2" x 2-1/2" spotlight. Casting a ballot for silver or black can also be good for your economy because free perforated card stock is included, too.
Whether for literature in a new sales campaign or highlighting the names in your organization, the popular vote is with Black Borders and Silver Borders framing Acrylic Cubicle Sign Holders and Name Plate Holders. Stand out and get your message and people noticed…it's the only way to win!