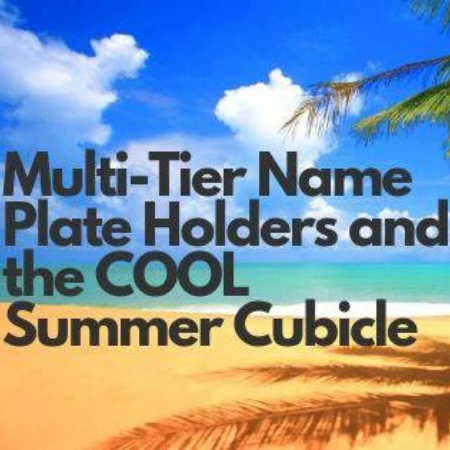 Multi-Tier Name Plate Holders and the COOL Summer Cubicle
Stuck inside working on a beautiful summer day? If you find the ear-worm refrain of "Summertime Blues" in your head, it's perfectly understandable. It's also time to give the interior a little summer lift, especially in cubicle layouts.
Beyond the obvious 9 to 5 outdoor escapes for lunch and breaks, what else can you do? Comfortable enough to open a window for fresh air? That is, if you're not windowless or hermetically sealed-in. The sure-fire key to happier summer workdays involves brightening up your indoors.
There are subtle ways to lighten your mood…flowers, different lighting, and even a new background on the computer screen can get the ball rolling. If you listen to music during the day, switch up the playlist – with or without Summertime Blues.
A change in décor should also include cubicles. Traditional partition walls and modern uptakes on cubicle design both look better with the latest in Name Plate Holders…premium thickness acrylic in dynamic new designs with colored border options to match.
In addition to eye-catching "People Spotter" Cubicle Name Plate Holders, new multi-tier options are elevating exposure for name/title inserts just in time for summer. Multi-Tier Name Plate Holders with Silver or Black Borders (Style PNHL SSS and PNHL SSB, respectively) also add a highly functional element with 2, 3, 4, and 5 slot variations.
That puts many flexible display options in your control. Bold color borders deliver the ideal frame for custom name and title inserts, with plenty of room for more name plates. Department identification and directional signage also slide into place, all in one convenient Name Plate Holder with multiple slots.
While looking around the workplace and imagining a more summer-y look, picture the added possibilities available in clear Acrylic Multi-Tier Name Plate Holderswith Colored Borders. Whether the insert announces a VP or Marketing head, specific department, or simply Enter and Exit, chances are, the aesthetic appeal of Combination Suite Identification Name Plate Holders can play a part in a summer interior upgrade!