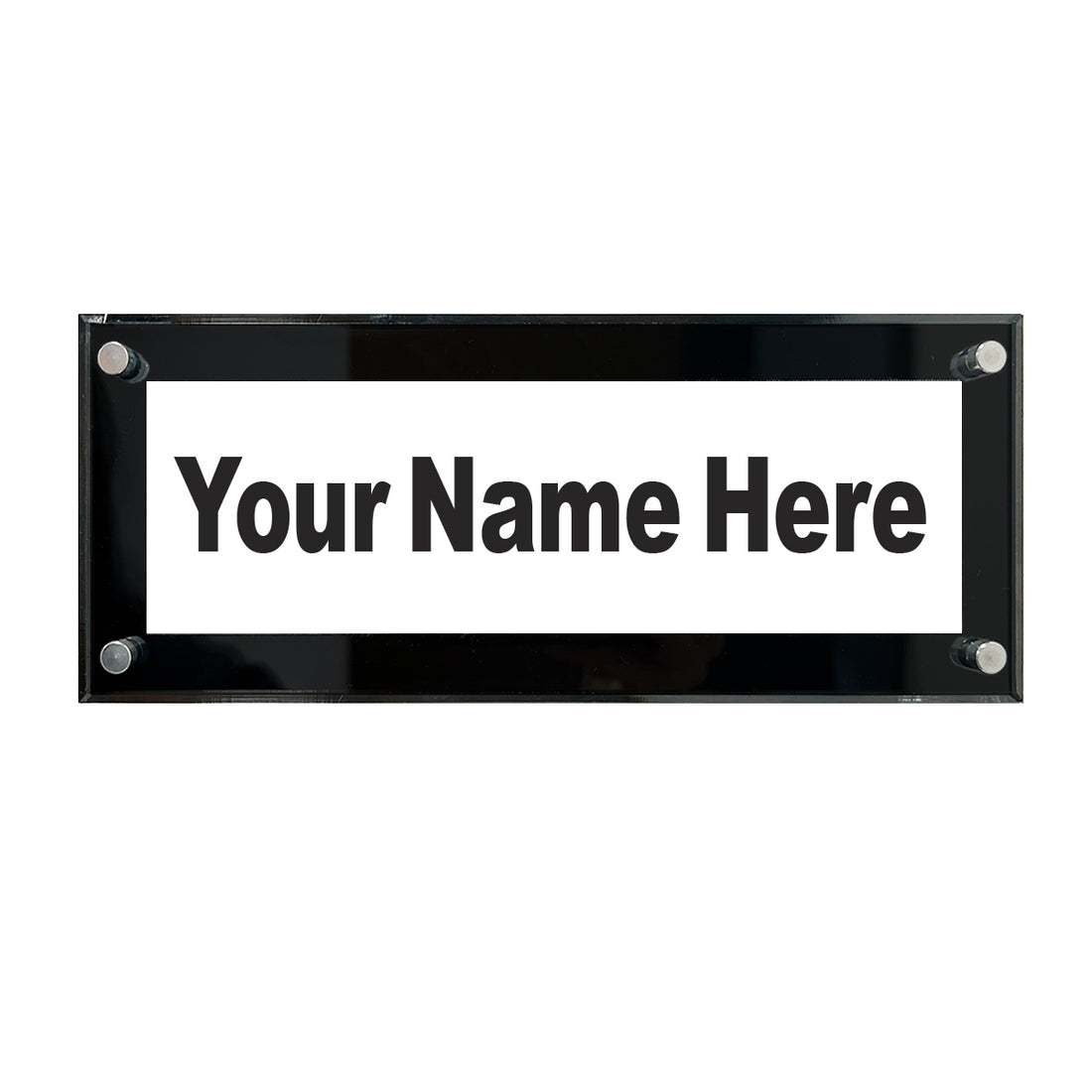 Introducing All-New Acrylic Wall Nameplate Holders with Standoffs and a Bold Black Border
Launch the New Year with Plastic Products Mfg.'s bold, all-new product launch, an Acrylic Wall Nameplate Holder with Standoffs and a Black Backing. This dynamic, eye-catching combination makes inserts stand out with distinction, delivering style and impact with the addition of contrasting stainless steel standoffs and back borders.
This new addition to our expanded Acrylic Standoff Wall Nameplate Holder line features beveled, polished edges for a crystal clear, sparkling finish. Undeniable aesthetic appeal goes hand-in-hand with its' seamless, modern, contemporary design.
Mounting this new Wall Nameplate with Standoffs is no problem either. Each Acrylic Nameplate Holder mounts easily with just one screw/keyhole attachment, going from the box to the wall in no time flat. That makes the all-new Wall Nameplate Holder preferable to metal nameplate holders…and more cost-effective when compared to metal, too.
Another cost-saving plus? Heavy-gauge perforated card stock is included free on select orders for Acrylic Wall Nameplate Holders with Standoffs. That makes DIY printing and personalized inserts a breeze. Name and title inserts never looked more professional and only become more accentuated with the black bordering background. And all in the most popular size, 8-1/2" x 2-1/2".
The modern touch contrasting silver standoffs with black borders is a far cry from the first nameplates attached to bicycles and pool tables. Antique enthusiasts also point to the nameplate on an 1870 Avignon, French safe as an early champion of the craftwork. Of course, that was long before transformative Acrylic Nameplate Holders were conceived and well before they became wall mountable.
If you're considering a new look and updated interior office décor for 2023, now is a fine time to pre-order new Acrylic Wall Nameplate Holders with Standoffs and Black Border/Backing. Especially with introductory pricing and the free perforated card stock included. Just ask a friendly customer service specialist if you have any questions.