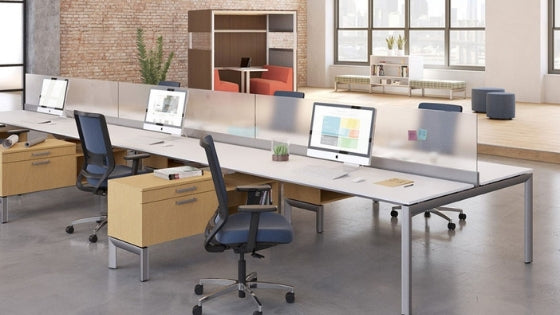 Inspiring People Spotters, Name Plate Holders, and Cool 2019 Office Design Trends
Boring, generic work spaces are becoming as increasingly passé as the 9 to 5 work day. That's according to Décor Mag, which recently listed employee lifestyle and wellness as focal points in new office design trends. A DM "Décor Aid" entry even claims that office décor and the environment it represents has become "part of the decision-making process when future employees are considering whether or not to accept a job offer."
How to achieve that trendy look in 2019? The Décor Aid article pointed to several areas, like incorporating a homier feel in common work areas with coffee tables, sofas, and throw cushions. Layered textures are also big, blending materials ranging from leather and sheepskin to wool, metal, and stone…in a range of colors and finishes.
Details count. Accentuating a new office look also demands the right People Spotters…modern Name Plate displays that complement the latest design trends, textures, and themes. Colored Border Desktop Name Plates in Black or Silver, for example, make a bold statement in reinvigorated offices. Inserts are also easy to customize for DIY printing with heavy gauge perforated card stock included free on select orders.
New People Spotters aren't confined to desk and countertops, either. Cubicle layouts are being reconfigured into more attractive work pods…and the partitions still need their Cubicle Name Plates with Borders. Polished edges and premium thickness acrylic lend a dynamic showcase for traditional 8-1/2" x 2-1/2" Name Plates.
Acrylic Cubicle Sign Holders can also play a part in a new-look décor. Exclusive Sign Frames with Borders really make event pronouncements and essential literature displays pop with eye appeal.
People Spotter Name Plate Holders also fit other design trends in DM's Décor Aid. Imaginative use of geometric patterns is one instance. And how about offsetting acrylic and colored borders with shimmering metallics, like in wall coverings? In futuristic offices, reflecting light this way can only make work days brighter!