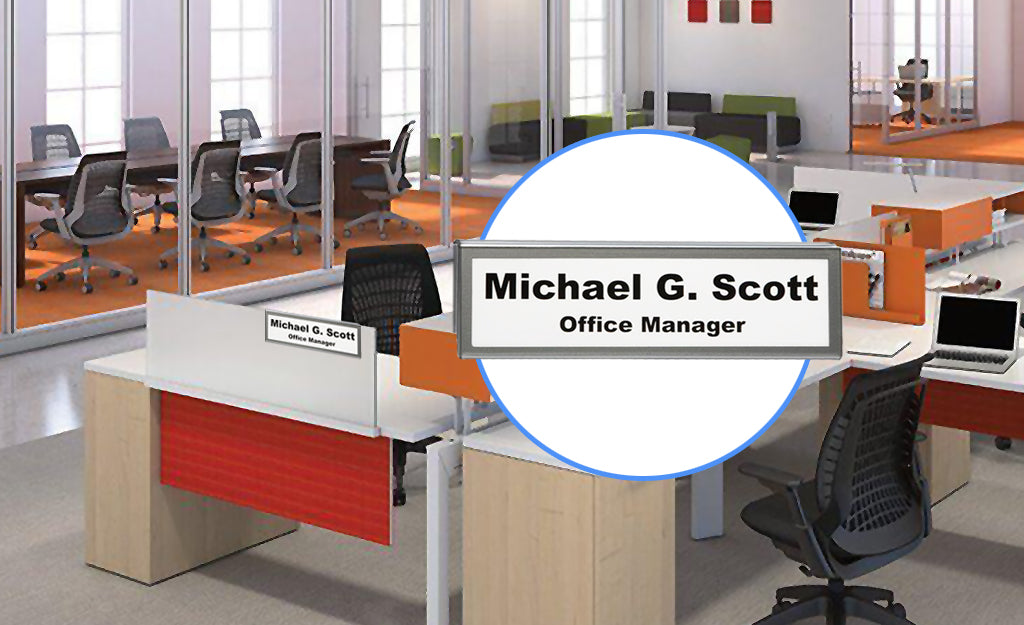 Glass Partition Name Plate Holder Essentials for Office Desk Dividers
Does it seem like there's something missing in your office? Perhaps a little privacy? Desk partitions and dividers provide a simple solution, but then what do you do to dress them up? And do you really need them in the first place? Here are a few possible benefits to consider.
Desk screens and privacy providers come in a wider range of colors, styles, and finishes than you might think. Functional and stylish, a bright array of choices can rather easily adapt to office décor and branding.
Partitions and dividers also help define workspaces and break up areas where space is wasted. Additionally, this creates personal work boundaries often missing in open floor plan environments. A collaborative work area is all well and good but people still need a sense of privacy when it's time to think in solitude.
Security can be an issue in office areas exposed to heavier general foot traffic. Once again, partitions and dividers placed in just the right places can go a long way toward information security.
Besides the different colors and styles, desk dividers and partitions really need something extra to complement the overall effect. Glass Partition Name Plate Holders deliver a professional sharpness, standout style, and incredible functionality as a showcase for name and title inserts.
Styles to note in particular are PNHG SSS Name Plate Holders with striking silver borders and PNHG SSB Name Plate Holders with dynamic black borders. Loaded with aesthetic appeal in premium thickness acrylic and polished edges, these popular nameplates install easily and Name Plate inserts are likewise easy to load. Single and double-sided options are available…ideal for back-to-back insert display. The colors make names and titles pop in high visibility!
If you're adding desk partitions and looking to save a little money on the Name Plate Holders to go with them, here's something else to consider. Heavy gauge perforated card stock for DIY insert printing is FREE with select orders!