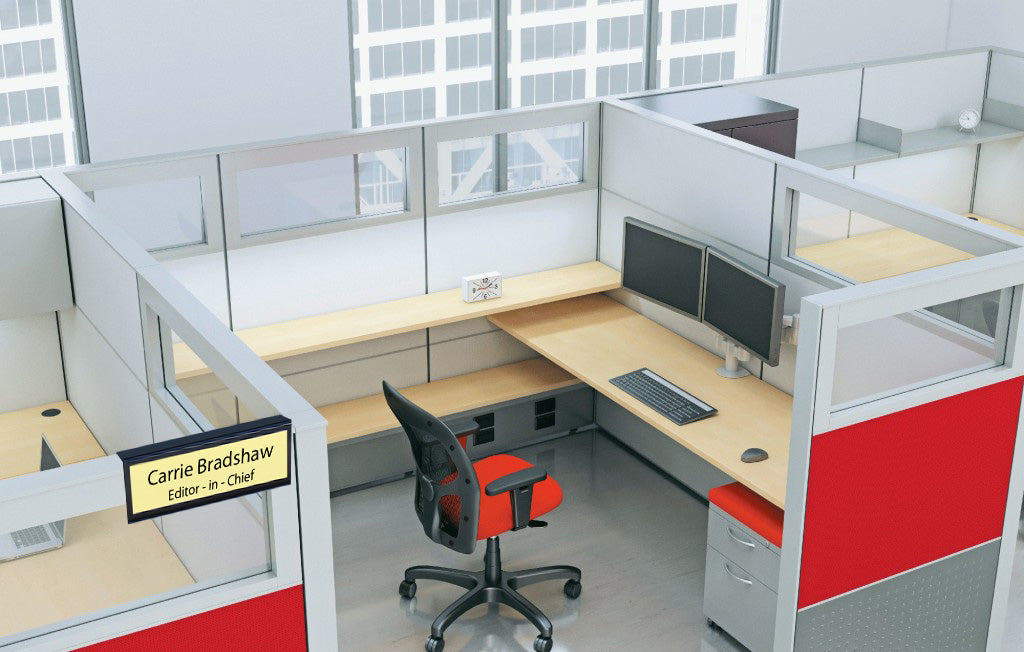 Essential Cubicle Accessories for a More Efficient Work Space!
Efficient work starts with efficient work spaces. Now's the time to get organized and give each area its proper identification/designation. Here are some essentials you should consider…especially now with dynamic new looks in Cubicle Name Plate Holders for the identification part, and Cubicle Sign Holders, Cubicle Sign Frames, and Cubicle Brochure Holders for the organizational aspect and promotional displays.
Start with the most important: the people who make your operation go. Style PNHT2 elevates your valued personnel with Tiered Cubicle Name Plate Holders that stand above partition walls and showcase TWO inserts for double-sided viewing. Or, show name/title inserts in a single-sided spotlight with PNHG Acrylic Name Plates, ideal for a modern look on glass partitions and wall dividers.
The most exciting new Name Plate additions deliver a splash of color in a bold new approach. Want to complement your professional décor? Colored Bordered Cubicle Nameplates are the way to go. Polished edges frame names perfectly in your choice of black, silver, gold, bronze, or white. Name Plates have never looked more vividly attractive!
What about photos, reminders, and cubicle organizers? Style CSHL Cubicle Sign Holders serve well both functionally and aesthetically. It's an eye-catching way to display upcoming events and promotions with single-sided perspective.
That tiered look is also available in CSHH Cubicle Sign Frames. Your promos and advertising literature literally reach new heights and stand above the rest with these easy-to-install Cubicle Tiered Sign Holders. Double-sided viewing equals double the value in potential sales!
Want to stop foot traffic by utilizing partition space? Cubicle Brochure Holders in tough, premium thickness acrylic get the job done. Dual-functioning for internal use as well as promotional literature distribution, look at Style CBH.
By the way, if you create your own name/title inserts, ask about free perforated card stock offers with select Cubicle Name Plate orders…a nice complement with your cubicle accessories!