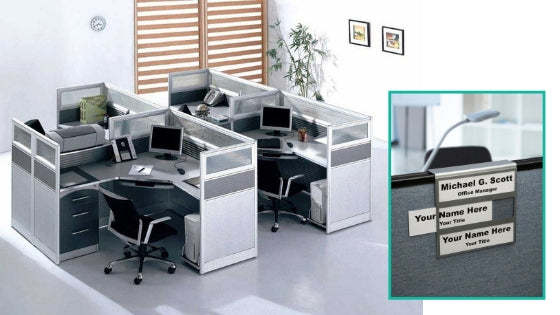 Cubicles Then and Now: from Name Plate Holders to People Spotters™
We recently touched on the origin of the office cubicle, first introduced in 1968 as an "Action Office" system by the Michigan furniture manufacturing company, Herman Miller. Herman Miller, which opened in 1905, turned to Robert Probst for a design "not to keep us apart while at work, but to set us free." The Action Office was thus proclaimed as the world's first open-plan modular system of flexible panels…with a revolutionary ability to reconfigure in changing office layouts.
Ironically, it was the changing office landscape that led to conflicting reviews of the Action Office. In the 70s and 80s, those who chose a partition pattern that simply crammed more workers into a smaller footprint brought about a stinging rebuke among discontent staff.
Today's push for newer, more open-air floor plans is helping inspire another look at the trusty cubicle. Imagination and ingenuity are creating interior office designs unlike anything around when Action Office was first introduced.
Innovative office designs now approach cubicles much differently. No longer a mind-numbing labyrinth of partitions, technological developments have made it possible to create independent work pods out of cubicles. Wireless and paperless work environments offer more freedom and require less cumbersome forms of storage. Modern workstations are increasingly taking the form of a mini-living room, not a cage.
One element that's still essential, regardless of partition layout? That's the Cubicle Name Plate Holder so key to identification. New People Spotters™ are keeping pace with office dynamics, adding style and distinction to spotlight the individual. Polished acrylic with bold Colored Border Name Plate Holders makes name and title inserts pop!
Silver, black, bronze, or white, Cubicle Name Plate Holders provide a fine showcase for personalized 8-1/2" x 2-1/2" inserts with polished edges and superior color detail. That makes a sharp contrast against the partition wall and an aesthetically appealing addition to the cubicle.