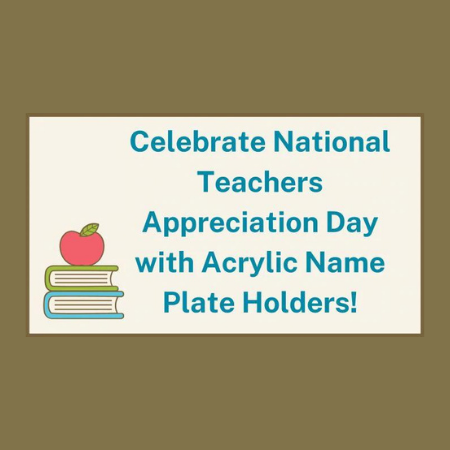 Celebrate National Teachers Appreciation Day with Acrylic Name Plate Holders!
When asked which professions are most underappreciated, many responses are likely to include first responders, teachers, or both. As vital as first responders can be in life-threatening emergencies, it's more likely that a teacher has cast a significant influence on your day-to-day.

To honor our fine educators, May 4th has been designated National Teacher Appreciation Day. Also called National Teacher Day, the National Education Association calls it not just a day for honoring teachers but also one that recognizes "the lasting contributions they make to our lives." Social media postings using #TeacherAppreciationDay or #NationalTeacherDay are encouraged to say thanks, and we have a nice tribute idea that's even better!

Consider the one item almost as necessary to teachers as a desk and a syllabus: the Name Plate Holder. Acrylic Nameplate Holders make very personalized gifts that offer quality and distinction. Polished acrylic like this goes well in a classroom setting and never goes out of style!
These People Spotters™ make excellent tributes, giving each teacher a well-deserved individual spotlight. Desk Nameplate Holders have a dynamic, modern look in slant-back, sloped, and stand-up styles. Nameplate Holders with Bold Silver or Black borders add a nice twist to a classic desk accessory, too!  Personalized inserts are also easy to load and never looked better in premium thickness acrylic.

Congress first declared March 7, 1980 as National Teacher Day. But the drive to make it happen began much earlier. Political and educational leaders started discussing the designation of a national day as far back as 1944. In 1953, Eleanor Roosevelt resumed the call and persuaded the 81st Congress to make the proclamation.

By the way, if you miss saying thanks to a teacher on Tuesday, May 4th, you can still avoid detention by saying it throughout the week and beyond. Technically speaking, National Teacher Day is part of Teacher Appreciation Week from May 3-7, 2021. Now you know!