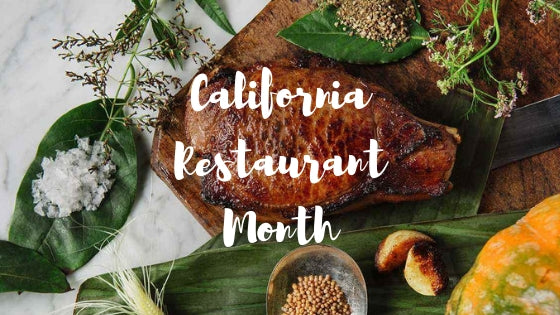 California Restaurant Month and 2019 Hot Trends!
Anticipation is running high for 2019 in the restaurant, bar, and food service industry.  The National Restaurant Association surveyed nearly 700 professional chefs in the American Culinary Federation and determined which food, cuisine, beverages, and culinary themes will be this year's "Hot Trends," from Zero-Waste Cooking (#3) to Veggie-centric/vegetable-forward cuisine (#8).  To honor January 2019 as California Restaurant Month, here's a sneak peek…
1. Cannabis/CBD oil-infused drinks.
2. Cannabis/CBD oil-infused food.
3. Zero-waste cooking.
4. Globally inspired breakfast dishes.
5. Global flavors in kids' meals.
6. Hyper-local.
7. New cuts of meat.
8. Veggie-centric/vegetable-forward cuisine.
9. Chef-driven fast-casual concepts.
10. Craft/artisan/locally produced spirits.
If you're in the food-&-drink biz, you know one constant that never changes from year to year: the importance of repeat customers.  That's why Loyalty Rewards Programs are so vital…and increasingly popular due to the ease of technology.  This is especially true for chains, where loyal customers can be rewarded for ordering from any location.
Enter the Acrylic Tablet Holder.  Take advantage of this user-friendly technology and make it a focal point of attraction.  Interactive Point-of-Purchase (POP) centerpieces feature an eye-catching modern look, whether in free standing floor units or in custom kiosks.  Get better results from cross-promotions with updated offers and reward bonuses…everybody wins!  Acrylic Tablet Holders are a perfect fit for countertops, slat-wall displays, and desktops.
California Restaurant Month is inviting visitors from all over the world to sample cuisine not found anywhere else.  One spotlight is on the central coast's Aubergine, recommended "after a day of exploring Carmel-by-the-Sea."  This intimate setting has just nine tables in the main dining room with a 2,500-bottle wine cellar.  California-inspired and locally sourced dishes with the finest wines of France and Monterey County…Aubergine is an intriguing possibility!
By the way, you should also know that the Hot Trends list includes doughnuts with non-traditional fillings and ancient grains!