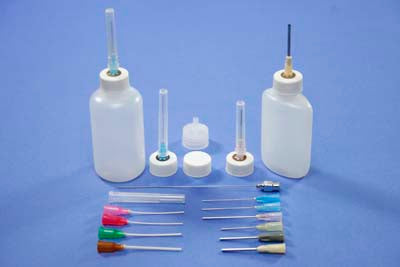 Avoid the Mess – Top 6 Plastic Applicator Squeeze Bottles and Needles
From the hobbyist assembling a cool model plane to top professional fabricators striving for perfection, precise application of adhesives and other liquids is an important key element.  Without the help of high quality applicators, a project can end in frustration and – in the worst case scenario – disaster.  Weld on products requiring industrial solvent adhesives are a prime example, where the finished work has to be seamless.
Ideally, the best plastic applicator squeeze bottles for any use should be easily squeeze-able so the user can more carefully hit the mark, even in the tightest spots.  The best applicator needles minimize problems with clogs and drips.
Ever made your own flies for fly fishing?  The folks at Pacific Fly Fishers (dare we call them a-FISH-ianados?) profess a love of their plastic applicator bottles for storing and applying certain cements.  If you've never tied a fly, rest assured – it takes a keen eye and steady hand…and the right tools.  Beyond the realm of fly fishing, the right applicator bottle and needle makes better, easier work involving glues, paints, stains, glass stains, inks, and more than we may even know!
Another area where detail is vital: hair.  In the growing, competitive spa & beauty shop industry, color applications are something that can either help enhance a business' reputation or land it on People's Court for a botched job (it's true!).  So what do beauty techs and cosmetologists rely on?  You know…it's their trusted, precision applicator bottles.
No matter how you choose to use them and without further adieu, here are SIX great options for your consideration.  Let's call them the Top 6.
* Stainless Steel Needle with Bottle and Cap: This features Stainless Steel Needles attached to a Cap and Bottle…either a 1-1/4 ounce Oval Bottle or 2 ounce Boston Round.  They're available in a vast number of gauges and lengths.
* Stainless Steel Needle with Cap: Also features Stainless Steel Needles with attachment to the Caps… only without the bottle.  They're competitively priced and come in three different gauge/length configurations.
* Stainless Steel Needle: This is the Needle only.  It comes with a Blunt Safety Tip and a Sleeve to help protect the needle as well as those who may come in close contact.  If you just need the Needles, we invite you to inquire about the specs.  We have about 16 standard configurations.
* Extra Long Stainless Steel Needle with Cap: The 5 inch length of this superior Stainless Steel Needle attached to a Cap is perfect for delicate jobs in hard-to-reach places.  This version comes without the bottle.
* Extra Long Stainless Steel Needle: Similar to the style above, just without the Caps.  Remember this especially when it's time to order replacements.
* Bottles and Caps: Last but certainly not least are the all-important bottles and caps.  Just need the bottle only?  1-¼ ounce Oval Oiler/Applicator Bottles and 2 ounce Round Oiler/Applicator Bottles are the way to go.  Caps only?  Check into Un-punched Caps – 18/400 Unlined Caps in particular.  We also have Spout Caps…the Snap On Oiler/Applicator Cap.
There you have it.  Craft stores, hobby centers, fabricators, industrialists, precision high-tech firms, beauty shops, fly fishermen…a perfect job takes a perfect application from the perfect applicators.  Make sure that combination includes you, your customers, and our Plastic Applicator Squeeze Bottles, Needles, and Caps.