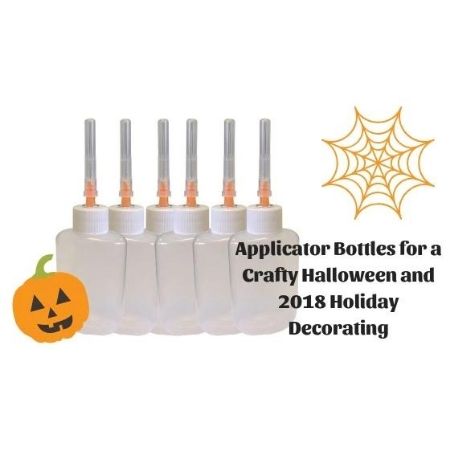 Applicator Bottles for a Crafty Halloween and 2018 Holiday Decorating
It's that time of year…time to get crafty in the spirit of the season. Halloween and Christmas are by far the two most celebrated events of the year in terms of décor sales and revenue. As a result, creative craft making also gets busier as does use of tools for every application.
From carving jack-o-lanterns to handmade Thanksgiving centerpieces and decorating the tree, Fall is traditionally the season for craft makers. And there's a bounty of new ideas trending for this year's autumn designers…like Glowing Leaf Jars. Glue real or silk leaves (silk lasts longer) in a single layer around the interior of a Mason Jar, add a battery-operated tea light, and voila!  You have a warm, glowing look of Fall.
Candles wrapped in cinnamon sticks tied together with twine add a nice complement in seasonal décor and aroma. Incorporating gold into traditional autumn wreaths is also big this year.
For Christmas, Hallmark is celebrating its 45th anniversary of an annual tradition: issuing the latest in a series of ornaments. This year, Hallmark is featuring more than 200 new "Keepsake Ornaments" with a nod to each of those 45 years…especially popular if you have a particularly special year in mind.
But for those into the DIY approach, there is some essential planning behind successful craft making. Solvents, glues, and cements will be widely used, along with the applicators to apply them. Seasoned veterans of seasonal crafts know all too well that there's quite a selection of fine stainless-steel needles in varying lengths and gauges, Oval and Boston Round applicator bottles, and color-coded caps for easy identification.
If you're on the supply side or feeling personally inspired, you might want to see for yourself. Just visit Plastic Products Mfg for Applicator Bottles!