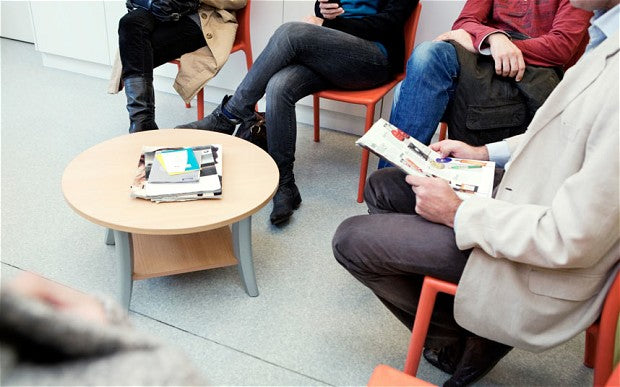 Acrylic Sign Holders for your lobby or waiting room…and why you need them
What do busy medical practices, business offices, and the hospitality industry all have in common? Sooner or later, every visitor will pass through or spend time in a common area, namely your lobby or waiting room. It's an opportunity to share information and cross-promote your services to the largest segment of customers and patients…an opportunity too good to miss! And the best way to reach them? Glad you asked.
Acrylic Sign Holders provide the ideal spotlight for your print and promotional literature. They also give your office décor a clean, polished, professional look. Acrylic Literature Displays make a wise investment for a number of reasons, and here are just a few.
Scratch-Resistance makes Acrylic Sign Holders flawlessly reliable and crystal clear.
Easy-to-Clean Acrylic makes your literature look great AND easier for the eye to absorb.
Acrylic composition looks like glass yet does not crack or shatter. Plus, it doesn't split or break like wooden displays. Perfect for heavy foot traffic!
User-Friendly Acrylic Displays are quick and easy to load…and re-load when it's time to switch literature.

Customizable, PPM can screen-print your custom logo, name, and graphics to make your Acrylic Sign Holders that much more attractive.
You might also be surprised at the versatility associated with different Sign Holder styles and how they can be configured to match your brochures, pamphlets, and slicks. PPM Style AP Acrylic Sign Holders with Brochure Holder attachments are prime examples. Take a look and you'll see a variety of sizes and dimensional configurations. Note the sizes of your promotional literature and use the larger Sign Holder portion to draw customer/patient/guest eyes. And with the Brochure Holder pocket attachment, you can dispense related material that delivers the call-to-action…either for the future or even right there on the spot. Style AP Sign Holders also have a slight slant that adds to their visual allure and points the subject material right to eye level.
Looking for a different approach that's economical and focuses specifically on brochures MINUS the Sign Holder? Style PDK08AP is one effective approach. It's a basic, straight-forward Brochure Holder for countertop displays and tough as nails to avoid splitting and breaking. At 7 inches high by 4 inches wide, it offers both depth and protection for your brochure displays. Go ahead…load it up and watch strategically placed brochures and pamphlets go directly to the people who have already walked through your door: your most qualified customers, patients, and visitors. When you incorporate Sign Holders in both marketing and interior décor, it's a win-win every time!