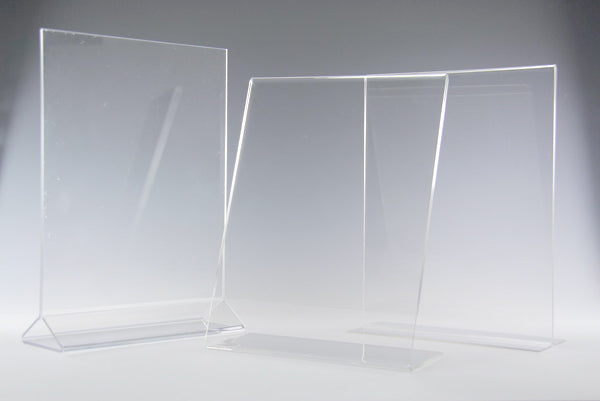 Acrylic Sign Holders and Display Stands Make for a Prospering Business.
Happening now, Plastic Products Mfg (PPM) has announced that current sale specials will run through June 30th, significant price reductions on Style A Sign Holders, Style B Display Stands, and Style C 8-1/2" x 11" Sign Display Holders.  Each style also features Plastic Products Mfg's proprietary thicker material at a sturdy .098.
Popular Style A Sign Holders and Table Tents benefit greatly from the tougher thickness while delivering an eye-catching slanted angle to the base.  Ideal for showcasing everything from furniture and electronics to hospitality/rental car upgrades and bar/restaurant specials, June specials and thicker material make A085110ST an investment with added value.
Thicker gauge material is also a strong attribute in Style B Display Stands.  It's an attractive showpiece that's exceptionally functional and user-friendly with top and side loading capability.  The display stands atop a triangular base, well-anchored by the .098 thickness.  Refer to B085110ST for June's special pricing.
Style C is geared for high-visibility, high-profile areas with heavy foot traffic.  This 8-1/2" x 11" Sign Display Holder is a vertical bottom loader with double-sided viewing.  Thicker material on this particular style (C085110ST) makes it especially durable, long-lasting, and an effective addition to POP campaigns.
Your sign holders and table tents are an important part of your branding and marketing effort. They need to compliment your promotional materials not detract them. A great sign holder provides a clean and professional image for your company and helps communicate your message directly to the people that matters most; your customers. Online ordering is available now on Plastic Products Mfg's website and questions / customization requests are welcome.  Special sale offers end June 30th!