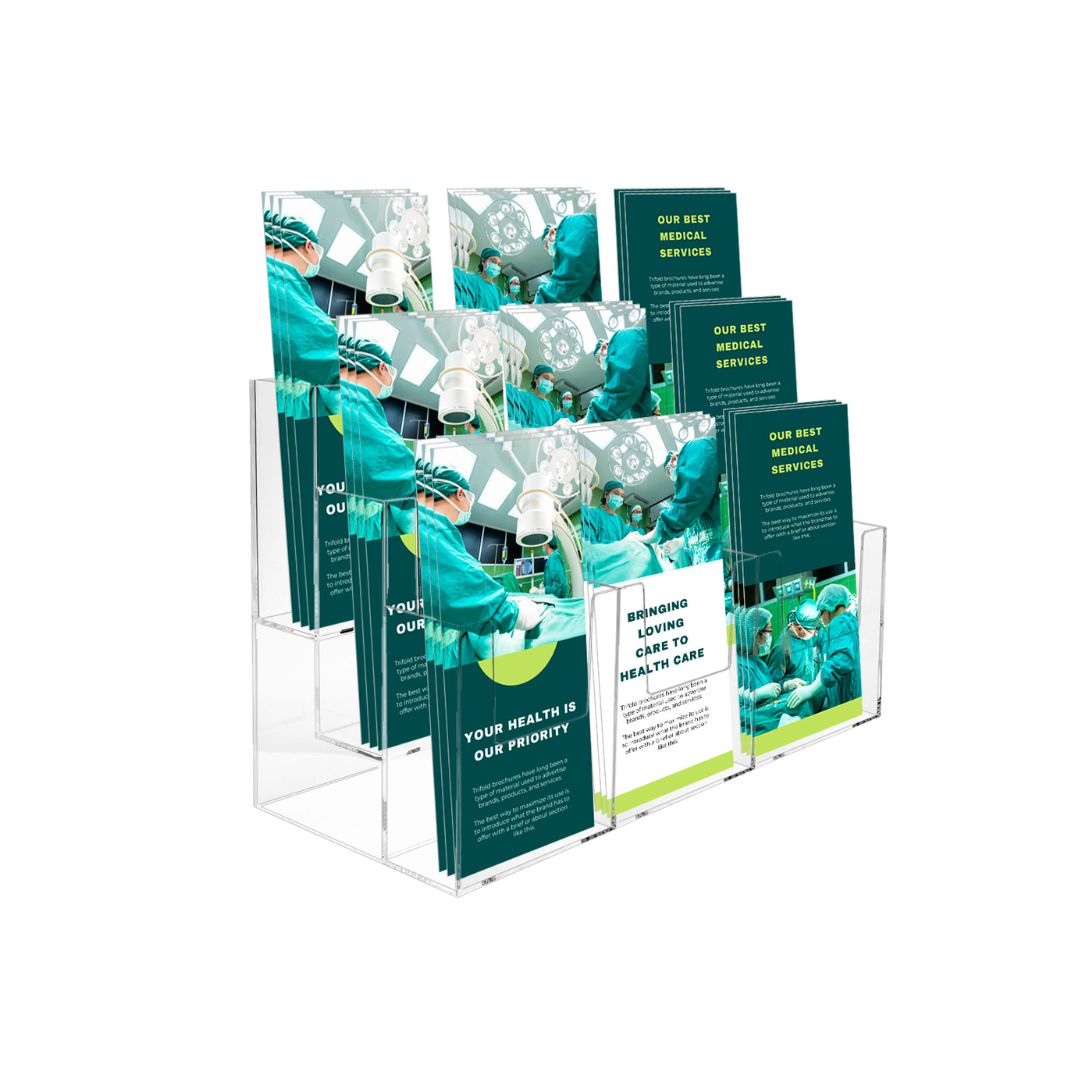 Acrylic Displays and their Vital Role in Medical Offices and Healthcare Facilities
Medical offices and healthcare facilities have experienced significant interior transformations since early 2020 and the beginning of the pandemic. As physicians, nurses, and specialists continue dealing with heavy caseloads, demand is also on the rise for clean, clear, highly visible Acrylic Display products, namely Literature Holders, Wall Nameplates (including a Multi-Slot variation), and Wall Sign Frames. Acrylic Sneeze Guards are also continually in-demand.
Get the word out effectively…
Start with Acrylic Literature Holders, an ideal way to invite attention and easy accessibility to important information and healthcare-related brochures. Need an effective way to distribute vital details and various sizes of pamphlets? Literature Holders deliver and make organization easier, too.
Sturdy, transparent, and easy-to-install…
Multi-Slot Wall Nameplates and Wall/Door Nameplates give you dynamic options in reception areas and doctors' offices. Individual Wall/Door Nameplates attach easily to surfaces, right at eye level where they can't be missed. Multi-Slot Wall Nameplates are exceptionally strong yet lightweight, and showcase multiple inserts displaying personnel identification, department designations, and directional guidance.
Say it all on the wall… 
Advertising an upcoming Health Fair or Vaccination Clinic?  You don't need a whole lot of wall space to get the word out in Acrylic Wall Sign Frames. Available in multiple size configurations, these eye-catching Wall Sign Frames perform splendidly as a spotlight for timely reminders about flu shots, boosters, and wellness programs. Promotions for Heart Health Month and even office hour changes get noticed better in a Wall Sign Frame.
Clean and Safe…  
Our proprietary acrylic is not only strong, durable, and longer-lasting, it's also easy to keep immaculate and appropriately hygienic in medical and healthcare environments. It only takes a little dish soap, warm water, and a dry cloth to keep every Acrylic Literature Display, Wall/Door Nameplate, and Sign Frame as good as new. The sanitary attributes also contribute to our Sneeze Guards' popularity.
Give your passing foot traffic a clear, undistorted view. Adding premium thickness acrylic is a cost-effective way to upgrade and modernize healthily!