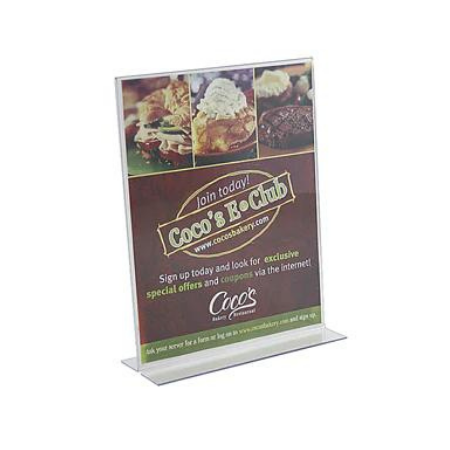 Sign Display Holders and Glass Green…the Color of Money!
    Getting products and services to stand out from the competition is an ongoing, ever-evolving challenge.  Every day, smart business owners and store managers face questions about price, profit margins, and how to differentiate their offerings in ways that appeal to customers better than the other guy.  Sometimes, it all boils down to presentation.
    So how do customers see what you have to offer beyond the storefront or showroom?  Whether operating one place of business or a nationwide chain of outlets, do your customers have the clearest view of what you're about and all you have to offer?  Even the best, top-notch sales staff well-versed in cross promotion and up sells can benefit from visual aids, and one way to really stand out, we've discovered, is with the use of Sign Display Holders.  After a great deal of brainstorming and experimentation, our research has determined some interesting findings about this striking counter top display.
    The Glass Green color itself is a strikingly attractive feature that draws the eye.  Rounded corners and polished edges also help make these sign holders classy and stylish…a super refined look in 1/8" thick acrylic.  Versatility in the sizes of these sign frames accommodates a pretty wide variety of applications, too – making them ideal for retail use, doctors' offices, and point-of-sale displays.  Fitness centers offering new Pilates instruction?  Rental car agencies promoting free upgrades?  Here's a sign holder that gets the message out, loud and clear in refined Glass Green style.
   No matter what type of professional setting you have for your clientele, every customer wants to be dealt with in a straight up manner.  So give them a straight up display and show your best.  A Straight-Up Vertical Sign Holder will do the trick, giving your promotional material an added dimension of noticeability.  It's a compelling Sign Display Holder that loads easily from the bottom, shining the spotlight and focus right where you want it…practically acting as a customer service rep all by itself.   
     Sign Display Holders and Glass Green Sign Frames.  They may not be for everybody, but then again, it's a little hard to imagine any place of business that WOULDN'T benefit from their eye-grabbing attraction.  Think about it.  Going green now has a whole new meaning!
Visit http://www.plasticproductsmfg.com for additional information