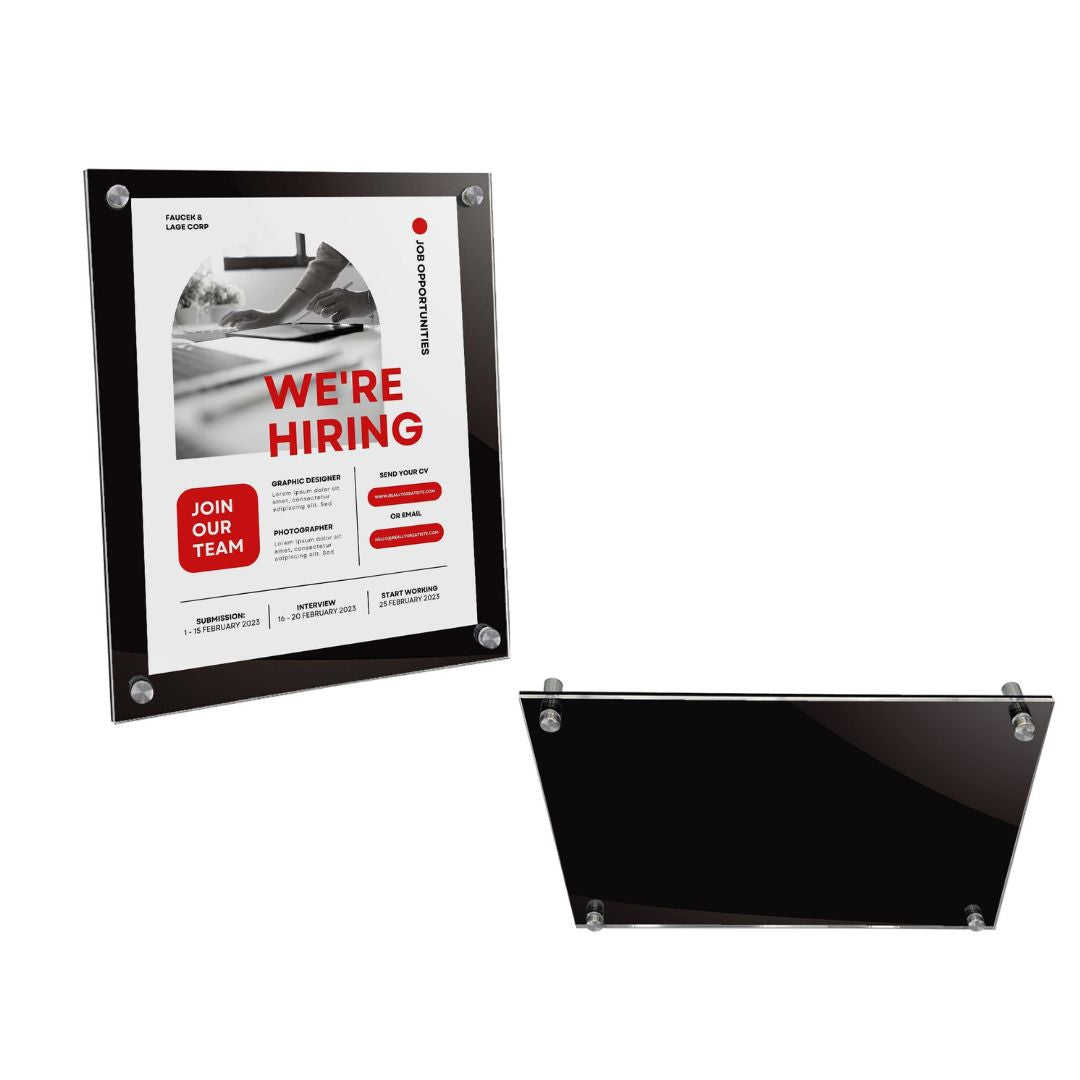 Now Showcasing New Acrylic Floating Sign Holders!
It's not an illusion or magic trick. Introducing NEW Acrylic Floating Sign Holders with Standoffs! This product launch stands out with a modern "floating" design that truly captures attention. The three most popular media sizes are available; your signage never looked better!
Contrast is key to the eye-catching design. The Floating Acrylic Sign Holder features a bold black acrylic back-piece with a clear acrylic front. That creates the borders framing displays, signs, and literature - giving each message a "floating" appearance. Stainless steel standoffs provide added contrast for an even more enhanced look.
These dynamic Acrylic Wall Frames with Standoffs are already in demand. Inserts are easy to swap out so re-using Sign Holders is no problem. The polished edges deliver aesthetic appeal and long-lasting durability. Plus, low per-unit pricing makes Acrylic Floating Sign Holders/Wall Frames with Standoffs a smart return on investment. Volume pricing on quantity orders gives you even more value.    
Another bonus? Installation is easy and the accessories you need for mounting to walls are included with your order. Documents can be displayed both horizontally and vertically, too. "Floating" Acrylic Standoff Wall Frames are expected to be a sure-fire hit in a broad cross-section of professional environments, from schools, law offices, and medical facilities to salons and restaurants.
Consider the bold black background and shine of stainless steel standoffs with a cool levitating style for a simply stunning visual effect. Floating Sign Holders command attention and draw the eye to your "can't miss" signs and literature. Better yet, Plastic Products Mfg. is taking orders and shipping now! A customer service representative will gladly answer any questions and help expedite your order. Don't wait to start floating your signage!