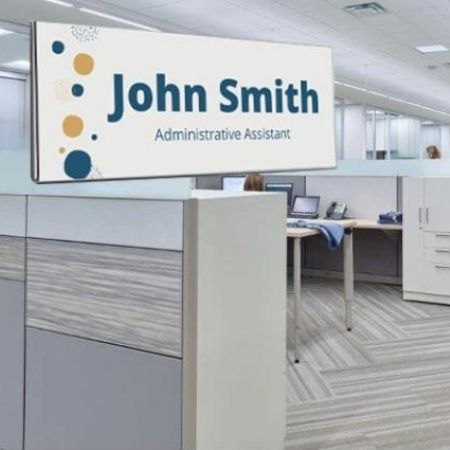 Make a Statement and Boost Office Morale with New Nameplate Holders and Custom Nameplates!
As the economy tries to recover from lingering effects of COVID-19, many workers are also still grappling with trepidation about returning to the workplace. When you think about it, every worker is essential these days and morale could certainly use a boost.
Here's an easy, affordable suggestion. Acrylic Nameplate Holders and Cubicle Nameplate Holders can help team spirit in multiple ways.
Office Nameplates serve as an introduction for new employees as they assimilate to a different work environment. As for returning staff, showcasing each name in an eye-catching Acrylic Nameplate Holder goes a long way when it comes to making employees feel at home. Custom nameplates recognize the individual and tell that person he or she is essential, valued, and important.
Personalizing inserts with names, titles, and graphics makes a more distinctive impact with aesthetically appealing Cubicle Nameplate Holders to highlight them. In this way, custom Office Nameplates recognize specific individuals and departments with clarity while also adding to interior décor.
Acrylic Nameplate Holders and the personal touch they help convey do more than make employees feel connected to their workplace. They also boost worker retention at a time when many feel unsure about the future. Job security is vital and simple recognition in an Office Nameplate contributes to that peace-of-mind.
While the historical origins of plastics traces back over 200 years, the transformative properties of plexiglass and acrylic really took shape in the mid-20th century. And new innovations are still ongoing. For instance, Plastic Products Mfg unveiled Non-Glare Acrylic Cubicle Name Plate Holders over the summer. Once again, the properties of acrylic deliver visual clarity, durability, toughness…and the ability to adapt to a safer eye-friendly environment. 
As an added bonus, heavy-gauge card stock is included FREE with many qualifying Office Nameplate orders. End users get an industry-leading Acrylic Nameplate Holder AND the material for do-it-yourself insert printing! Something to consider and inquire about before you finalize your order.