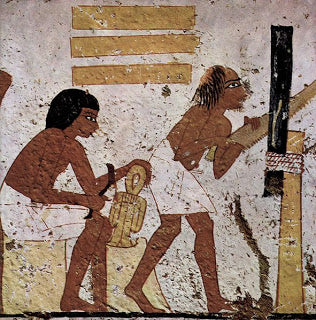 Winning Solutions in Chart and File Holders!
Trying to determine if wooden chart holders and file holders work more effectively than their acrylic counterparts is almost like trying to figure if the chicken came before the egg.  Fact of the matter is: both have earned their rightful place…it just depends on individual needs and preferences.
Of course, woodworking had a few centuries head start on plastics and the more widespread use of acrylics.  The first plastics manufacturing process traces back to the 19th Century – 1868 to be exact –but it was in 1946 when the introduction of injection molding revolutionized the plastics industry.
Pre-dating the industrial revolution, wood has been a source of furniture, shelter, and a plethora of vital uses dating back to man's first experience with fire.  As furniture, tables and inlaid serving stands found in Turkey have been connected to the 8th Century BC.  Today, traditional craftsmanship in fine woodwork is immensely popular in Shaker and Amish furniture made of oak, maple, hickory, and cherry.  The results are profitable AND many pieces are considered art as well.
The same combination of aesthetic appeal and functionality can be found in Oak Chart and File Racks, Wall Pockets, and Privacy Chart Holders.  Used primarily in physician offices and medical facilities, wooden chart holders and file holders deliver that crucial element of patient privacy and confidentiality.  The new lines we're offering are HIPAA compliant, the highest governmental standard for the medical field.  Solid oak construction keeps patient files and x-rays conveniently handy, yet names and records are kept private.  Chart holder pockets are 12-1/2" wide and the holders themselves are available in 1, 3, or 5 pocket styles.  Front dividers add to both eye appeal and functional design.
Open Ended Chart Holders and File Racks offer the same privacy attributes with taller 9" front panels and easy access from the right, left, or top.  They're constructed using ¾" solid oak bottoms and mounting plates, and like all of our wood wall mount chart holders and file racks, are shipped ready to mount – predrilled with hardware included.  The Light Oak, Medium Oak, and Mahogany finishes provide the interior design complement…that same kind of warmth that makes those Shaker and Amish pieces so desired.
Oak Chart and File Wall Pockets capture that appeal and really show off the durability factor with solid oak sides and deeper pockets for thicker files.  1, 3, 4, 5, and 10 Pocket Chart Holders and File Holders, Single Pocket X-Ray Wall Racks, and Legal Size File Pockets all fall into this category, providing a wide array of organizational solutions.  Free standing Chart and File Holders come with carpet and floor friendly feet for stand-up use.  Variations of wall pockets are geared for any number of wall space sizes, too.  Slimmer multi-pocket holders make a nice fit in vertical spaces, especially if horizontal wall space is hard to come by.  Wider wall pockets find their niche filling those broader areas.
There are times and places when the visual acuity of Plastic Chart Holders presents a more utilitarian Medical File Holder.  For inner office transitional use, for example, the clarity of a 10" acrylic Open End X-Ray Holder can certainly prove to be the preference of doctors, nurses, technicians, and staff.  Circulating medical charts quickly and efficiently in a bustling facility calls for sturdy transparent plastic, and our versatile Magnetic Medical Chart Holders and File Holders easily mount to file cabinets with magnetic strips.  They also offer a unique design that looks great in any office…a clean, modern look.  Our original Medical Office Mail Holder is also made of break resistant clear plastic, ready for attaching to walls and doors with pre-drilled holes and/or double-sided tape.  The thickness of the acrylic in these applications makes them virtually indestructible in their settings.
Depending on facility layout, consideration of both wood and acrylic in chart and file holders might be the way to go.  Using wood in more publicly accessible areas where privacy and foot traffic are concerns?  Good idea.  Acrylic in areas where medical professionals need visual access STAT and would prefer durable, see-through plastic?  Also something to consider.  The point is: both have their place, function, and rewards…ALL give great value!  And sorry about the STAT reference.  Shouldn't play doctor!