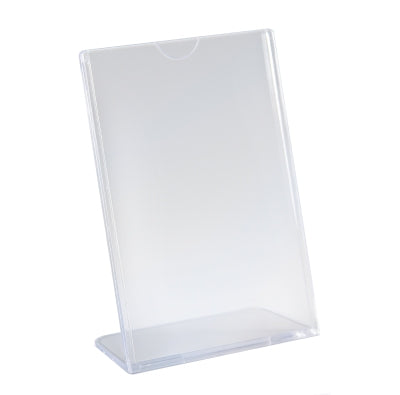 Why Counter Top Signs Generate More Sales By 83%?
When it comes to sales, everyone likes them nice and high, right?  The reality is that without strong sales, you simply don't have revenue streaming in… and without that revenue, your company can't continue to produce.  Counter Top signs are so effective because they are an automatic call to action with built-in properties.  When you use table top sign holders to display your graphics, pictures, menus, and specials, they automatically draw customers to come read them…especially when there are eye-catching designs, pictures, and fonts involved.
SIgn Holders Are Call to Actions
People are automatically drawn to specials and that makes the ROI in any sign holder more than you might expect!  Calls to action, also known as CTA's, are an image or line of text that prompts your leads, visitors, and customers to take action.  Depending on what type of industry your company is in, a CTA can easily be placed in any of our point-of-purchase displays.  That includes anything ranging from a good photo of your product or service to a simple, special advertising sign.  Sign Holders are the most affordable way to raise brand awareness and attract your leads into the purchasing decision. 
Eye-Catching Design 
The best way to take full advantage of your POP displays not only lies in the type of display and content used to attract leads.  First, they have to know the display exists!  Make sure the placement is visually accessible to your traffic and customers, and don't be afraid to be creative and show a fun side!  Use colors that contrast and read well.  Adding your logo or slogan with print screening to yourPOP displays is a great way to identify yourself and raise brand awareness.  Another way to do this is to contrast your website or design colors to your sign, and make sure it appears large enough to be noticed.
Sign Holder Capabilities 
Sign Holders come in a variety of different styles and sizes to choose from.  Because they are made of clear plastic, they're available in rigid vinyl and acrylic depending on your needs.  No matter the budget, there's a perfect Sign Holder for you and a guarantee to generate more sales and traffic…a huge benefit in growth and nurturing leads.  Sign Holders are a MUST HAVE for promotional use.  They are light and easy to place anywhere, and you can customize in almost anything you want.  Our Sign Holders are sure to exceed your expectations when it comes to value and quality. 
How are you going to use your Sign Holders?  We would love to hear from you…share your ideas and comments!