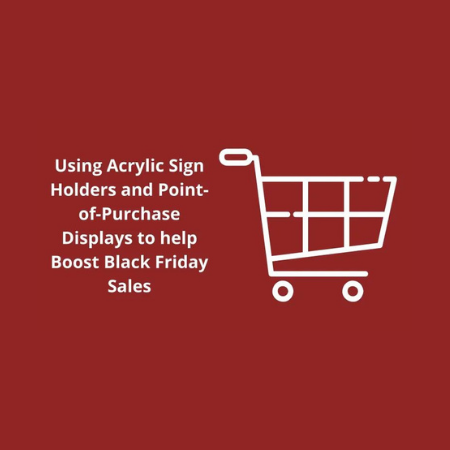 Using Acrylic Sign Holders and Point-of-Purchase Displays to help Boost Black Friday Sales
Anticipation is building as the big day nears. Yes! Black Friday…traditionally the single biggest sales event of the year for successful retailers. In recent years, Black Friday has been challenged by Cyber Monday online sales, creating a sense of urgency for brick-and-mortar establishments trying to capitalize on motivated in-store shoppers. With the pandemic, this year proves to be a little more challenging on the store-front.
Every detail counts when your most profitable projected period of the year boils down to one specific day, more or less. As sales personnel prepare for the overwhelming hordes, visual aids from Acrylic Sign Holders can serve as most capable "sales assistants."
Numbers have shown in the past that just about 70% of in-store sales are impulse buys. Black Friday shoppers in force are eager to spend and visual guides can single-handedly spotlight any number of hot products, ringing the register and building buzz among other shoppers.
Classic Slant Back Acrylic Sign Holders perform admirably. Strategically placed, Acrylic Point-of-Purchase displays create an eye-catching showcase that makes promotional literature stand out nicely.
This Crystal Clear Sign Holder is in especially high demand this time of year, displaying your traditional 8-1/2" wide by 11" high messages. Made of sturdy, premium-thickness acrylic, classic acrylic slant back sign holders make sales inserts pop out and reach the eye. It can take hard knocks and swapping out inserts on a busy Black Friday floor is fast and easy!
When exactly did the day after Thanksgiving become known as Black Friday? The informal name for the beginning of the Christmas shopping season was first used in 1952, according to some. Others believe it originated in 1961 in Philadelphia, describing unusually disruptive traffic that day after Thanksgiving. It was another 20 years before the term Black Friday came fully into vogue, representing the difference between being "in the red" and "in the black." If you're in retail, make Black Friday