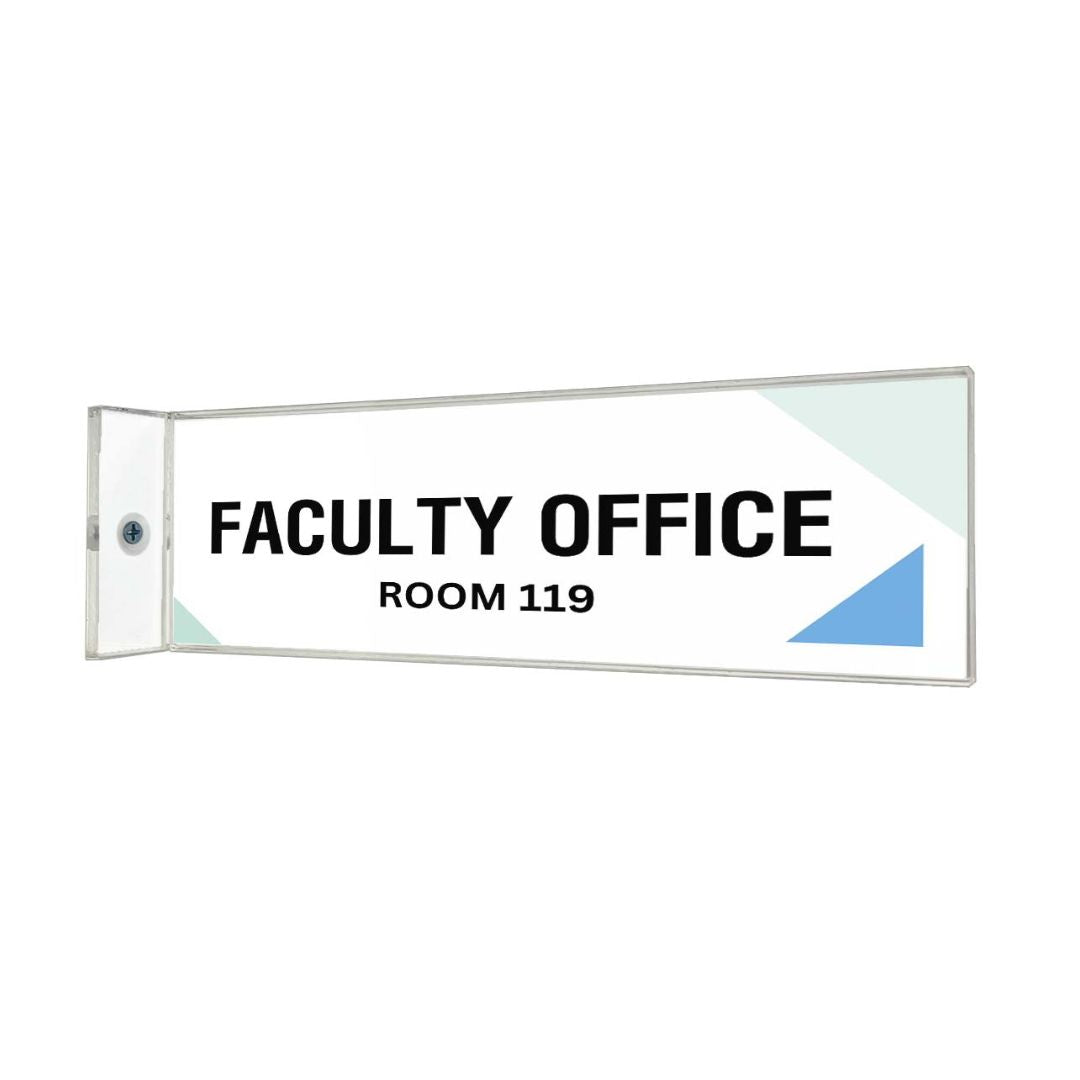 Unveiling NEW Acrylic Hallway Sign Holders
The writing is on the wall with Plastic Products Mfg's new product launch. We're pleased to unveil the latest with NEW Acrylic Hallway Sign Holders. A perpendicular design makes this Hallway Sign Holder especially unique, as you will see.
Two sturdy T-shaped acrylic plates are held securely together, with signage prominently displayed between the panels. The base is easy to wall-mount, and the holder extends outward at a 90-degree angle. That makes for an ideal Acrylic Corridor Sign, showcasing room numbers, department and room designations, and interior routing to destinations like elevators and restrooms.
Swapping out inserts is also easy. Simply pull the plates apart and replace the insert. Our Hallway Sign Holder checks in at 8-1/2" x 2-1/2" and we even include white perforated card stock FREE so you can create those inserts right away.
Another distinct benefit is the double-sided design, excellent for way-finding. As an Acrylic Corridor Sign, you can point the way to foot traffic passing from either direction with arrows and emergency signage. Clear Acrylic Hallway Sign Holders also make signs easier to read without glare.
The protective nature of premium-thickness acrylic also delivers longevity for the Sign Holder and the inserts. That makes the new Hallway Sign Holder as useful in busy hospital settings as it is in a 5-star hotel.
Professional appearance matters, too, and Acrylic Hallway Sign Holders showcase aesthetic appeal and style in addition to functionality. They're affordable, especially in volume orders, and your shipment can be processed quickly. And don't forget the free card stock included for your DIY inserts.
Make your wall signs, directional guides, and department/room designations stand out with distinction. New Acrylic Hallway Sign Holders and Acrylic Corridor Signs can't be missed!