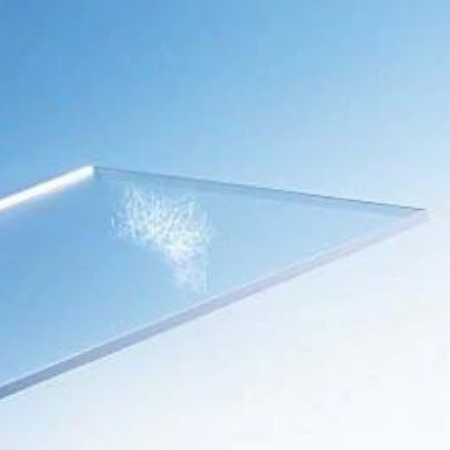 Top 3 Plastic Cleaners and Polishes for 2013
Just as they are with glass, scratches in clear acrylic are more than just a cosmetic issue.  For truly crystal clear viewing and readability, it's important for plastics to be clean, polished, and scratch-free so that eye strain is removed from the picture.
Just how much effect can scratches have on the eye?  While these slight fractures may not be a major visual hindrance in brochure and display holders, there seems to be some debate on OptiBoard, an online discussion panel for eyecare professionals, about their effect in eyeglass lenses.  One point of contention is that most scratches are of the minor "hairline" variety – those very light ones that don't have any pronounced detriment to visual health or ability and usually aren't even visible when glasses are worn and close to the eye.
But some posts find agreement that scratches also refract or "scatter" light differently and those etchings DO change the eye's perception.  Think of a crack in a windshield as another example, or even a dirt streak: a late nightdrive on that long highway with headlight glare can become a major irritant in this circumstance.
We mention all this, not to scare you, but to remind you that there are highly effective Novus Plastic Cleaners, Scratch Removers and Polishes available in different grades for your literature displays and various acrylic items.   Geared to keep them looking pristine and maintaining the clearest visual acuity, Novus 1 Plastic Cleaner and Shine repels dust and gently cleans all plastics so your materials look their very best.  Novus 1 leaves a lustrous shine and resists fogging in the process, eliminating static and leaving no scratches.
How do you follow Novus 1?  Novus 2 Plastic Polish & Fine Scratch Remover is the logical answer.  It's an ideal solution for removing those finer scratches, abrasions, and a great deal of haziness from most plastics.  Novus 2 even restores faded and discolored plastics.  Like Novus 1, Novus 2 can be ordered in 2 ounce and 8 ounce quantities, depending on the magnitude of your needs.  Same goes for Novus 3.
Novus 3 Heavy Scratch Remover is what you will definitely want on hand for the most hard core requirements.  It does not disappoint, either.  Like its name implies, Novus 3 removes those heavy scratches and abrasions from plastics.  And for added effectiveness in certain restorative applications, using Novus 3 to tackle the tough spots and then Novus 2 as a follow-up can give a new, glistening luster to your acrylic displays.  It's a "3-2" combo that's easy as 1-2-3.
One final thing to consider before applying Novus 1, 2 OR 3…without the right polishing cloth, the care you're giving to your plastic showcases may come up JUST a little short.  May we suggest the Novus Plastic Cleaner Polish Mate…and throw those other polishing cloths away.  Consider: this quality Polish Mate is abrasion resistant, low lint, and extra durable for a stronger return on your buck.  Better yet, it gives that soft touch and high-performance cleaning ability – the right compliment for all the Novus cleaners…1, 2, AND 3!
Where image and presentation are concerned, now is NOT the time to lag behind, so take a good long gander and see how your reflection looks.  Then give it a polish with Novus 1 Plastic Cleaner and Shine, Novus 2 Fine Scratch Remover, and Novus 3 Heavy Scratch Remover.  You'll feel as good as you look… true fact!