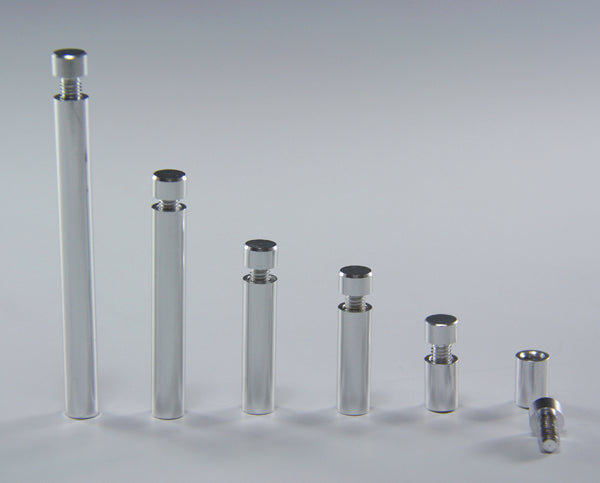 The Ultimate Standoff: Stainless Steel Signage Mounts
When it comes to presenting a polished, professional image, no detail can be overlooked. You can rest assured that your customers will notice, and that perception can make a real difference…whether simply trying to make an impression or sealing a deal. If you're not on top of the details, you can bet your competitors are.
That's where Standoffs enter the picture, stainless steel sign mounting hardware that's more than meets the eye. Standoffs are excellent anchors for acrylic, wood, and stone panels, and they're also an integral part of the display itself, creating clean lines and enhanced aesthetics with a modern appeal. Plastic Products Mfg (PPM) is featuring a complete new line of stylish Standoffs in a number of finish options, including silver, black, blue, gray, and red. The threaded "through" design of these display wall fasteners also makes mounting and installation fast and easy!
Versatility is a plus with PPM's new Standoffs. Machined with solid stainless steel construction, these attractive wall fasteners can also be used in outdoor applications. Multiple size and weight configurations are available…just be sure to consider the true dimensions of your signage and panels before you order to make sure you're getting the proper structural support. As mentioned, their strength is ideal for anchoring acrylic, wood, and stone panels.
If you're looking for new ideas to improve your operation's look in merchandising, image quality, décor, or all three, consider the classy, high-end combination of Standoffs with the stylish appearance of PPM Glass Green Photo Frames. Style A2Green Edge Photo Frames with attractive Standoff fasteners make for especially eye-catching displays…on the wall or off when your needs call for countertop placement.
There's also an element of added allure using attractive Standoffs in conjunction with A4 Bowed Sign Frames. The curved lines of this clear plastic Sign Frame combined with the polished look of stainless steel Standoff fasteners gives your signage display a look that conveys a superb sense of style and taste. Whether fine-tuning your décor and design or stopping foot traffic for a closer look at content, this combo is the way to go.
Solid, reliable, durable and attractive, don't let those fine details get away in your custom signage and sign displays. Stainless steel Standoffs in multiple size and finish options are both functional and beautiful additions to displays…and your image!
PPM Customer Service Specialists will be glad to help with your order and answer questions about installation. Make your signage stand up and stand out with PPM Standoffs!