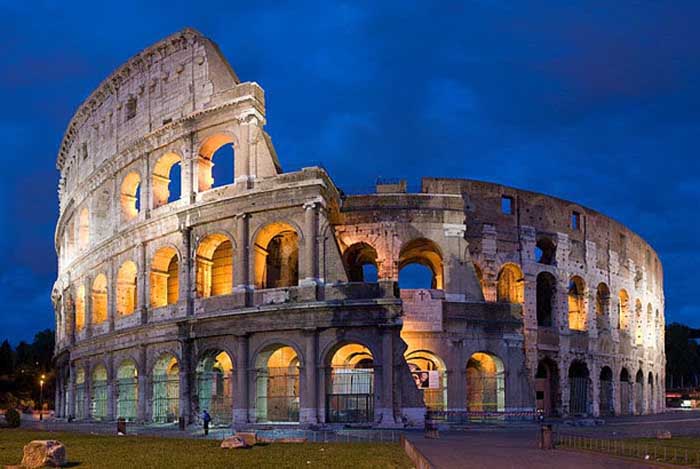 The Tiered Look: From Ancient Rome to the 49ers to 3-Tier Name Plate Holders!
Getting to the top tier means you've reached the highest of heights.  In social and political terms, it's the top rank, class, or position.  In a classic tiered stadium design, it means you either have the best view in the house…or you're stuck in the nosebleeds.  So who came up with this tiered design in the first place?
The ancient Greeks first developed the stadium concept, likely around 600 BC.  Makes sense since they gave us the first Olympiad.  But according to Sports Illustrated, it was the Romans who gave stadiums "a monumental shift" in 80 AD with the Colosseum in Rome.  With 50,000 seats and 80 entrances, the Romans developed the first tiered seating with prime seats awarded according to social status for the often grisly events.
Bloody gladiator battles may be a thing of the past, but the ancient Colosseum's design is still alive and well today.  Even the NFL's newest venue, the 49ers Levi's Stadium in Santa Clara, California, was modeled after a Roman Amphitheater, according to stadium architect Tim Cahill in an interview with SI.com.
The tier concept that provides a better view for watching sports also provides optimal viewing when being looked AT rather than FROM.  Plastic Products Mfg has taken this concept to new heights in the latest Style NPH3 3-Tier Name Plate Holder.  Its eye-catching design features three tiers in a slant back configuration.  When strategically placed as a Desktop or Countertop Name Plate Holder, Style NPH3 easily reaches eye level and commands attention!
That makes the 3-Tier Name Plate Holder a preferred choice in areas busy with foot traffic.  Visual aids, signage, and directional guidance in office buildings and business centers?  Tier Name Plate Holders show visitors the way to go effectively.  Financial institutions, banks, and hospitality environments are also turning increasingly to the innovative yet practical look of Style NPH3.
This unique Acrylic Name Plate Holder is more than a pretty face.  Side loading capability makes it user-friendly for your staff.  Inserts are fast and easy to replace and showcase them in crystal clear acrylic with exceptionally high visual acuity.
Another clear advantage with acrylic is the flexibility factor.  Need a custom size?  Plastic Products Mfg can work with you on special dimensions, prototypes, and a custom-tailored quote.  At any size, acrylic also delivers strength.  Hard knocks are bound to happen in those heavily foot trafficked areas and sturdy Acrylic Name Plate Holders can take the punishment!
Here's one final piece of amazing proof that the tiered design can deliver extraordinary results.  At Rome's Circus Maximus, 250,000 spectators could fit comfortably in a stone structure…only three stories high!  On a smaller scale, you can put the "terraced," tiered look to work as visual guidance for your customers, visitors, and guests.  It gets the job done cost-effectively, adding a look that's more than meets the eye!