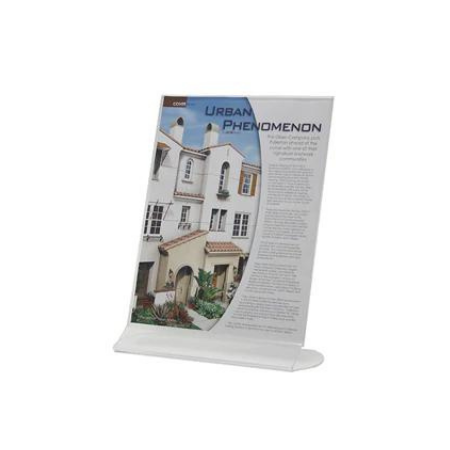 The Sign says: Gaze into the Acrylic Sign Holder
  When it's time to put your best face forward, be sure you look your best.  Well, maybe not YOUR face, but the face of your business.  Nothing showcases a logo, company name, and marketing material better than crystal clear acrylic, particularly Acrylic Sign Holders.  They're wildly popular…easy to load, inexpensive, and they really capture the essence of anything they show. 
   Designed for both horizontal and vertical ad copy, we've seen many sell sheets, promotions, and flyers become best-selling reading, right from the counter top.  These sign holder displays are available in a versatile array of sizes and styles that not only offer their own visual appeal, but accentuate the dynamic elements of your advertising, too.  They're also slanted to meet the eye and give your customers optimum legibility, a fancy way of saying "LOOK AT ME, READ ME…I'M RIGHT HERE."  
     One important factor to remember with all these slanted sign holders is that they're meant for showing one side…that's why we say "put your BEST FACE forward."  Let's use a flyer for a jet ski as an example.  An eye-catching front lures a customer already making a purchase at the counter.  The back is filled with less eye-appealing specifications and small print.  One side sells itself, the other side covers information your sales team can answer after the hook's been set.  With a little help from this relatively inexpensive sign holder, a jet ski may be sold!  The point is, when one side is where you really want customers and prospects focused, these displays are extremely cost-effective…especially if they help garner a sale.  For any promotional material that only requires one-sided exposure, Acrylic Sign Holders display them at their best with a very minimal investment. 
      Flyers, signs, and promos captured in black border sign frames do more than highlight in-store bargains, doctor office policies, and lower rental car rates.  Though not the most common sight, black border frames do add a stylish element to store and office settings.  Clubs, too…very classy!    
  Gaze into the future of Acrylic Sign Holders when you want to put your best material in the spotlight.  They're easy to load and ready for work.  A perfect slant awaits, without costing an arm and a leg!            
Visit http://www.plasticproductsmfg.com for additional information