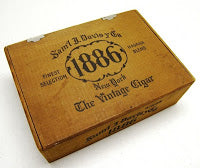 The Best Places and Uses for Wood Glove Boxes and Towel Dispensers
Containers for coveted Cuban cigars…9th Century Scandinavian Bentwood boxes storing everything from meat to valuables…treasure chests filled with fortune and locked with mechanisms years ahead of their time, criss-crossing the Atlantic and sometimes finding the bottom: mankind's appreciation of wooden boxes runs deep and far from the past and into the future!
Long before the beginning of the Industrial Age and even the first signs of the Iron Age, man needed wood for everything: shelter, furniture, storage, farming, shipbuilding…you get the picture.  In the world of wood boxes, those early Norwegian Tines (pronounced TEE-nuhz) were often decorated with such detailed adornments that the boxes could be associated with their artist.  Highly valued at the time, Tines were carved, given hot poker treatments, or painted with great colorful graphics.  Such attention to detail would have made the artists' talents welcome here with us!
Beloved jewelry boxes also have a vivid history.  Some believe it was ancient Egypt where the first wood boxes were ornately used as "jewelry caskets," as they were termed at the time.
Far removed from the long ago days of pyramids, galleons, and pirate plunder, we're attempting to capture the same craftsmen spirit in woodwork with our own Wood Glove Boxes.  Carefully constructed in Light Oak, Medium Oak, or Mahogany, the warmth and aesthetic appeal of a natural wood appearance makes a welcoming first impression.  But they're not just good-looking.  Durability and flexibility make them very user friendly and highly functional.  For institutional use, especially in medical facilities and hospitals, Wood Glove Boxesare a welcome departure from their sterile, cold metal predecessors.
Available in one, two, three, and four pocket styles, Glove and Tissue Dispansers allow for easy access and reloading.  The vertical oval shape of the dispenser windows adds to the eye appeal but they've also been designed so that continual human-surface contact is kept to a minimum.  Needless to say, this is also an area of top medical concern and we feel this design works strongly in favor of Wood Glove Boxes.
Wooden Towel Dispensers also capture that high functionality and ease-of-use.  Generally front loaders with a pull-down hatch door, Oak Towel Dispensers bring their applications to a multitude of buildings.  Whether used in laboratories, lavatories, kitchens, hospitals, or any number of other venues, there's an Oak box that fits easily.  Our Oak 2 Pocket Glove/Tissue Dispenser gives you dual functions with a convenient glove dispenser on top and tissue spool underneath.  Medical facilities, kitchens, and restrooms alike can all benefit from Oak C-Fold/Multi-Fold Towel Dispensers.  And similar to the 2 Pocket, an Oak Combo Towel Dispenser offers front pull access through the upper level window and bottom pull access underneath…both self-contained and simple to reload.  Lovely Oak warmth comes standard with each style: simple in function yet sturdy in construction.
Ever notice the giant keyholes on those old nautical treasure chests we mentioned at the top?  They were actually decoys.  The real keyhole was hidden and hard to find…part of an intricate network of mechanisms that all interacted with one another.  Our Wood Glove Boxes and Towel Dispensers have been designed to protect their bounty but are much easier to access and reload, helping keep staff happier and free to pursue other tasks.
By the way, if you'd like to see some of the amazing artwork on cigar boxes – especially on those crafted between the late 19th Century and the early 1960's – you might want to visit www.cigarhistory.info.  Interesting stuff!  Cigar lovers in general will likely make it a favorite.  Box it up…we're ready to go!