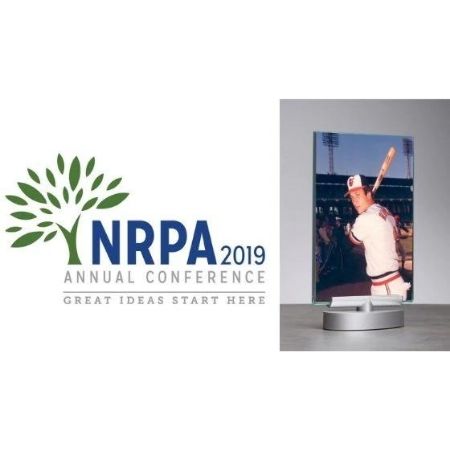 Swivel Base Sign Holders, Trade Show Displays, and Cal Ripken Jr at NRPA
Baseball pennant races and Trade Show season coincide every year. When the days of summer start fading, attention on the diamond and at the expo is just beginning to hit its peak. In one instance, baseball's strongest "iron man" will take center stage at, you guessed it, a trade show- one that celebrates our national passion for parks and recreation.
From September 24th through the 26th, the National Recreation and Park Association (NRPA) will hold its Annual Conference in Baltimore (preliminary events commence September 22nd). Some 8,000+ professionals are expected to be in attendance…connecting, learning, networking, and unwinding while celebrating new achievements and success stories in community Parks and Recreation.
The NRPA Opening General Session hits the ground running with Baltimore legend and Major League Baseball's reigning "Iron Man," former Orioles shortstop/third baseman, Cal Ripken, Jr. Ripken's prolific 21-season career featured many new records, none bigger than the shattering of Lou Gehrig's streak of 2,131 consecutive games by more than 500!
What's less known about Ripken is his philanthropy, helping children across the country by creating opportunities and applying that same tenacity and dedication to perseverance and excellence. As the keynote speaker, Ripken will focus on this inspiration to strengthen communities before the presentation of 2019 Gold Medal Awards.
Late summer into early autumn marks the time when trade shows across the board are at their zenith, before the holidays and potential winter travel woes. NRPA 2019 is just one of many…and all deliver great potential for showing promotions to a vast and well-qualified buying audience!
That's where Ripken-like, Iron Man strength and reliability steps up to the plate in product/literature/promotional displays. We suggest Swivel Base Sign Holders that put the motion in your promotion! Durable, premium thickness acrylic Sign Holders feature a hint of eye catching "glass green" edging. What also draws attention is the brushed silver colored swivel base that rotates 360 degrees. With Swivel Base Sign Holders at bat, your trade show promotional ads will swing for the fences!