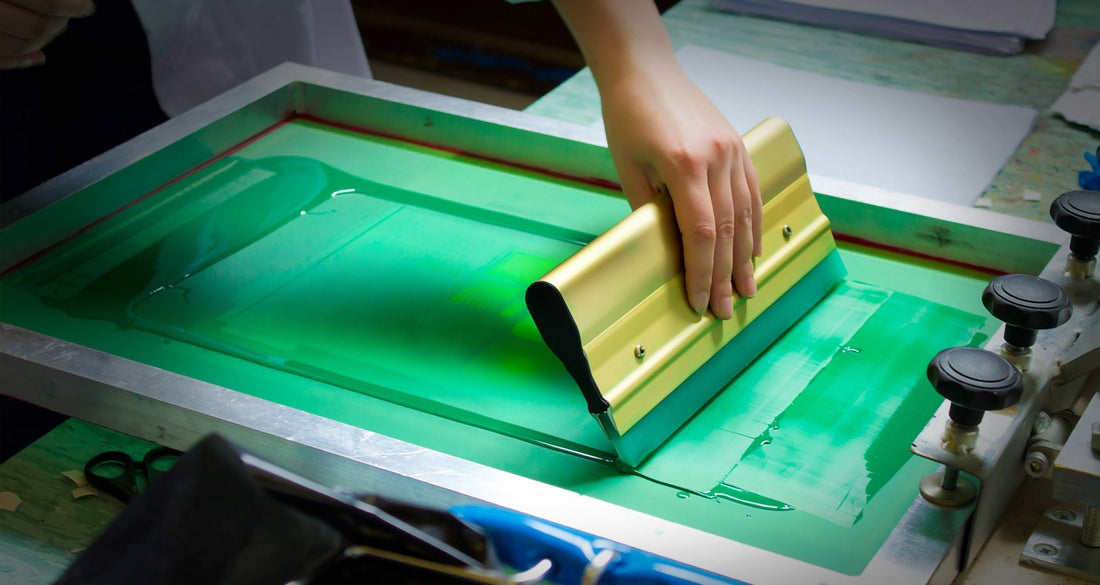 Silk-Screening and Imprinting – What It Is and How It Works
Customers ask us all the time about silk-screening and custom imprinting for their acrylic displays.  How does the process work?  What kind of files/formats are needed to best screen my artwork?  And what are the added benefits of screen printing on Brochure Holders, Sign Holders, Menu Holders, Table Tents, and Point-of-Purchase (POP) Displays?
We'll answer all these questions but here's a little background first.  The silk-screening process traces back to China's Song Dynasty (960-1279 AD).  It's a printing technique that began by transferring ink to a substrate through a mesh.  A blade or squeegee was used to spread the ink and blocking stencils were used to create the finished design.
Fast forward to the late 18th century.  That's when the screen printing process started gaining notoriety across Asia and Western Europe.  In the 1910s, the technique jumped from silk to printing with photo-reactive chemicals and photo-imaged stencils.  This laid the groundwork for the commercial digital process we use today…lifting images and artwork from e-files for the imprinting transfer.
Plastic Products Mfg techs perform this process using artwork you can send in a simple e-mail.  But what kind of artwork files work best?  Our "artisans" by and large prefer Vector Art or EPS Illustrator.  They're the two most "artwork ready" programs, ideal for full color CMYK imprinting and large batch produced graphics.  Use one or both and all you have to do is attach and send, basically.
Speaking of large batches, the already-minimal cost of screen printing and silk screening drops even further with bulk orders.  Sign Holder and Brochure Holder orders with custom imprinting get lower volume pricing in 100-249 pieces, 250-499, 500-999, and 1000+.  The number of colors (1 to 4) used in silk-screening also determines price.
Why customize display holders in the first place?  Acrylic is a perfect "canvas" for screen printed logos, graphics, artwork, and designs.  We offer silk-screening for practically every style we produce.  It's a great way to get noticed and boost brand recognition as well as upsells.  From hardware and garden centers to bars and restaurants, customers' inquiring eyes lock onto your POP displays more intently when they're personalized and colorful.  That's what helped make campaigns with Esther Price Candies, Ruby's Diner, and Stella Artois more successful: custom-printed Brochure Holders and Menu Holders from PPM!
By the way, you can actually see how to screen print one image or screen print multiple layers on Wikipedia (https://en.wikipedia.org/wiki/Screen_printing).  It's fascinating to watch this ancient process so alive and well in modern applications!  If you'd like to apply it with your next PPM order, just let us know and we'll be glad to answer any more questions.