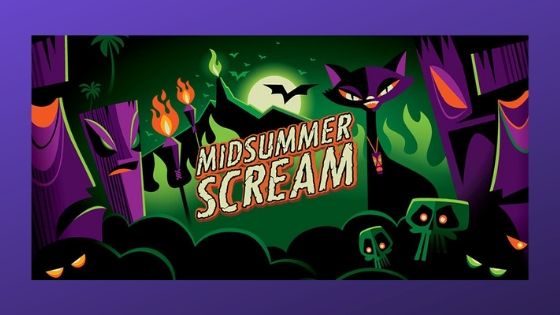 Sign Holders point to Midsummer Scream in Long Beach, Aug 3-4
"All the chills and thrills of Halloween over one summer weekend." To feverish fans who can't get enough of Halloween, this promotional line for Midsummer Scream in Long Beach August 3rd and 4th says it all. And why not celebrate? As holidays go, the popularity of Halloween is second only to Christmas. If there's Christmas in July, Halloween in August makes perfect sense.
What is Midsummer Scream about? This huge event at the Long Beach Convention Center is not just a cool escape into a haunted house. Sure, there'll be a Hall of Shadows, Dr. Zomba's Ghost Show of Terror, and Paranormal Pixie's Pumpkin Patch for kids. But there will also be physical stunts and theatrical performances by the Decayed Brigade. Celebrity photo-ops include Elvira, Mistress of the Dark. And the massive dark hall will also feature a frightening number of demos, displays, and exhibitors.
Midsummer Scare bills itself as "the West Coast's fastest growing haunt and horror convention" and the numbers are impressive. 8,000 attended in 2016; in 2018, that tally grew to 22,500. This year, hundreds of haunt, horror, and Halloween themed vendors will be showing their stuff. Picture a show floor filled with collectibles, apparel, props, and related services for fans, professionals, and home haunters alike.
Standing out in this frightening field of gore could be tricky for some exhibitors. Making displays especially vivid makes a difference in this horror genre, and the crystal clarity and visual acuity of acrylic can really do the trick-or-treat…er, trick.
Clear slant back Style A Sign Holders reach up and grab the eye; Style B displays stand vertically with double-sided viewing. Traditional Table Tent Sign Holders up to 6- and even 8-sided Acrylic Display Stands deliver a sharper image from multiple points-of-view. And these are just a few.
You know who else will be careful paying attention to detail at Midsummer Scream? KC Mussman, Owner of Nocturnal Designs and a Season 12 Finalist on the Syfy channel's Faceoff. She's holding a workshop on makeup safety for aspiring monster creators!