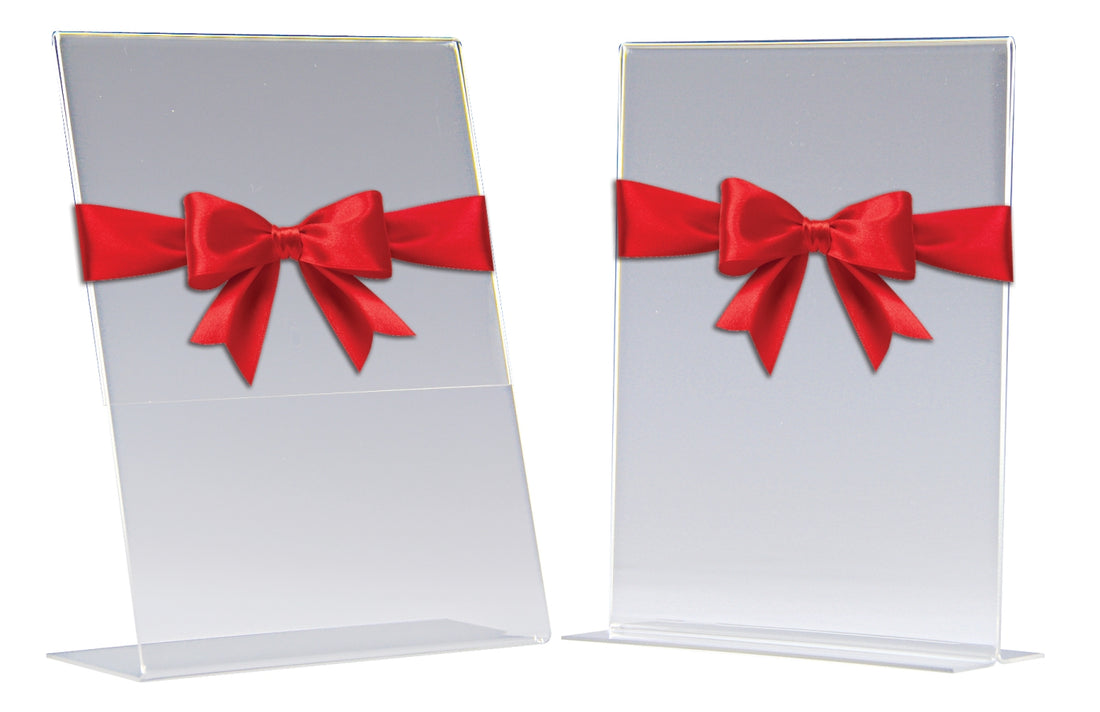 Sign Holders for 2014 Retail Holiday Sales…Projections and Tips to Boost your Revenue
The projections are in, and while guardedly optimistic, could pan out to nice profits during the busy Christmas retail season…even beyond Black Friday. If you are in the retail industry, you know how crucial 4th Quarter sales can be to your annual totals and now's the time to get every added edge with Plastic Sign Holders.
According to the National Retail Federation, 2013's 3.1 percent increase is expected to grow by a full percentage point to 4.1 percent in 2014…a healthy boost to $616.9 billion. Of course, online sales will still eclipse in-store totals, but all the indicators point to a retail bonanza over 4 percent for the first time since 2011. The NRF forecast is based on an economic model of consumer credit, disposable personal income, a recovering economy, and previous monthly retail sales releases.
So how do you plan to capitalize in your retail operation? A key component is your presentation of in-store special promotions using prominently located Acrylic Sign Holders, Poster Holders, and Counter Top Displays. You're likely already spending advertising dollars to get buyers in the door…make sure that foot traffic sees your best specials in sturdy, crystal clear plastic Display Holders for a clean, professional image. Plastic Products Mfg. has been a vital partner to retailers for the past 30+ holiday shopping seasons and can guide you to the most efficient, cost-effective styles.
Extruded Sign Holders are especially beneficial in retail environments because they're available in multiple width options and make promotional switch-outs fast and easy for your busy staff. And don't neglect the addition of color to enhance sales…especially the use of red and green to match the holiday ambiance. These two colors are proven to increase sales and can be easily silk screened to your Acrylic Display Holders for added eye appeal.
If you are simply trying to squeeze through the holiday shopping season on a shoestring, PPM has Economy and Super Economy Brochure Holders in-stock for immediate delivery. This allows you to spotlight pivotal products without having to spend a great deal.
Speaking of money saving alternatives, Plastic Products Mfg. has also just released new Thick Premium Plastic Sign Holders and Poster Holders. This thicker .098 material is available at low introductory pricing that's the same as previous thinner styles…just in time for the Christmas shopping season.
Strategic locations of Point-of-Purchase displays can make a huge difference in profit margins, and if you find that your sales game plan needs an additional kick start, be sure to contact your PPM representative right away. Technically, the season is already here and time is of the essence. Acrylic Sign Holders can also deliver valuable sales assistance in kiosks. It's also a time when clear Donation Boxes also become more prevalent and should not be forgotten!
If holiday shopping trends continue upward this year as predicted by the National Retail Federation, can you afford to miss your share? Don't risk it. Put your best on display with the latest in top quality Acrylic and Premium Plastic Sign Holders…only from the industry leaders at PPM.