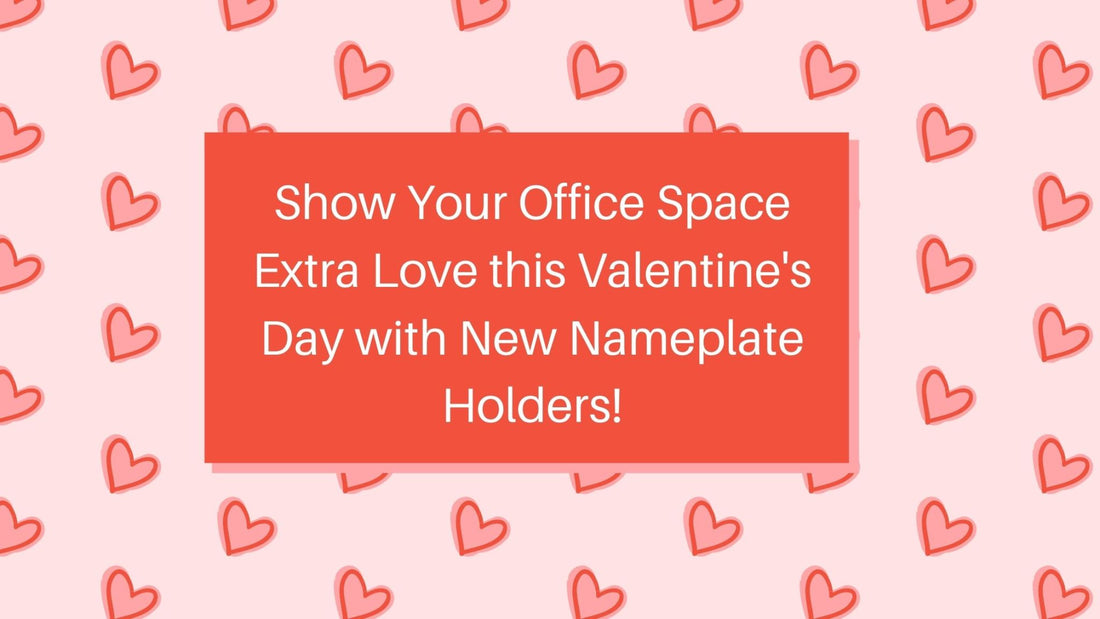 Show Your Office Space Extra Love this Valentine's Day with New Nameplate Holders!
The last few months have been tough for the office space. Remember when the workplace was like a second home? Once totally dark and lonely places, office spaces are coming back to life! Businesses are learning to adapt and scheduling staff in more socially distanced ways. And office spaces are reawakening in new floor layouts and designs with partitions.
Valentine's Day seems like an especially appropriate time to show your office space some extra love after so many lonely months. With cubicles popping up at an increasingly rapid rate, new Multi-Slot Nameplate Holders really spruce 'em up!  Dynamic Bordered Nameplate Holders also stand out clearly with black and silver border options.
While managers test their flexibility in staffing, spacing, and how to allocate work zones, Multi-Slot Nameplate Holders are an ideal match. Shifting individual Name Plates is as easy as mounting the display itself. Multi-Slot Nameplate Holders make an excellent alternative for upgrading Wall Nameplate Holders, too.
There's much to absorb visually in the new COVID workplace. New signage, Sign Holders, and Plexiglass Sneeze Guards are now standard office essentials. And trying to stand out with greater visibility can be a challenge. That's where silver or black Bordered Nameplate Holders truly accentuate names…just like a Valentine's tribute.
Another multi-use, multi-functional advantage? Both Multi-Slot Nameplate Holders and Bordered Nameplate Holders can serve as showcases for department titles and even directional guidance in addition to staff member spotlights.  
You know something else about Valentine's Day? According to Hallmark last year, Americans exchanged about 144,000,000 cards. And while some mistakenly think Hallmark invented the holiday, the oldest record of a Valentine message actually goes back to the year 1415. The origins of the holiday itself go even further back to the 5th Century…named for the 3rd Century priest St. Valentine who performed secret wedding ceremonies.