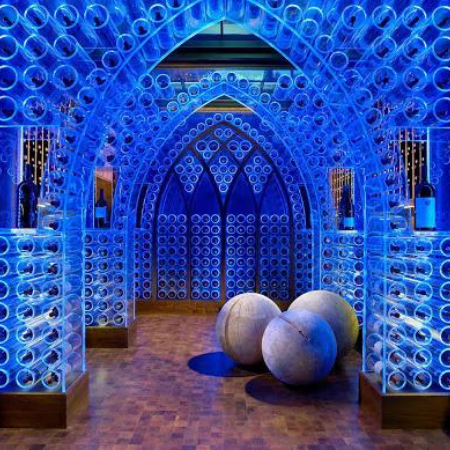 Photo Frames and Poster Frames: Amazing Acrylic does it again!
     It's amazing what the world of acrylic accomplishes these days.We, of course, are especially proud of our continuing innovations in the use of acrylic as a vehicle for displaying brochures, ad materials, promotional brochures, posters, photos, and other forms of advertising and information.By inventively developing a growing range of styles to accommodate a nearly infinite variety of print media, acrylic displays have a firm, long-lasting place in the service of industry and how businesses of all sorts represent themselves.
     You may not believe some of the creative uses of acrylic some rather ingenious folks have come up with.  Familiar with the TV show Tanked on Animal Planet and what the staff at ATM (Acrylic Tank Manufacturing) can do – creating stunning acrylic aquariums out of items like juke boxes, old cars, safes, church pillars and walls, bunk beds, buses, and more?  Or how about the climate controlled acrylic wine cellar Jamie Beckwith put in her Nashville, Tennessee home?  Featured on HGTV, the shapes, designs, and use of lighting in conjunction with acrylic design show just how unlimited and durable this formation of plastic can be…going as far as your imagination can take you.  
     Obviously, the versatility of acrylic is incredibly diverse.  And while our intent is not to sell you an out-of-this-world aquarium or million dollar wine cellar, we do feel truly inspired in our own ways…with acrylic photo frames and poster frames that will grab attention and deliver their own form of aesthetic appeal, inspiring your customers, prospects, and foot traffic in general.  
    Here's a way to get an edge with the use of color in a most solid looking photo frame.  Our Green Edge Photo Frames are glass green in color and look exactly like glass, but in actuality are manufactured using the highest quality acrylic plastic on the market.  With mounting hooks placed behind the frame, your signage gets a picture perfect view with the hardware hidden from sight.  Another benefit of this dynamic photo frame is that it can be used either vertically or horizontally in sizes 4" x 6", 5" x 7", or 8-1/2" x 11".  When you see how this classy frame enhances your display, there's no doubt everyone else will take notice, too.
     For a more traditional look, Black Border Photo Frameswith Clear Acrylic are a real eye-catcher.  This particular style has the ability to add an attractive touch to all types of content because it lends an element of contrast.  The acrylic clarity coupled with a one inch black border around the frame's perimeter brings out the details of the content in the frame…increasing both the overall appeal in general and the focus on the photo, promotion, or design it contains.  There's a key hole on the back for easy hanging and black border photo frames come in three standard sizes.  A real looker if we do say so ourselves!
  For those considering a special advertising campaign who would like to use the advantages of acrylic to their fullest while also looking for a more economical solution, Flush Top Photo Frames are the way to go.  This affordable alternative provides the same visual benefits, like top visual acuity in crystal clear acrylic.  Yet the beauty (or part of the beauty) of flush top frames is that they're low cost enough that they can be purchased in higher volume.  In this regard, you could advertise a certain promotion at multiple points of purchase for larger impact.  For example, if you're operating a larger retail store where foot traffic is widely dispersed, flush top photo frames give you the opportunity to spread the message and present those hottest sale items in more strategic areas simultaneously.  It could also present greater opportunities when used in cross promotions with overhead audio advertising.  Just a thought.
     Like wine cellars and aquariums, the uses for acrylic poster frames and photo frames are limited only by the imagination.  For personal use or in commercial settings, the sky's the limit!  Versatile, flexible acrylic: is there anything it CAN'T do? 
Visit http://www.plasticproductsmfg.com for additional information