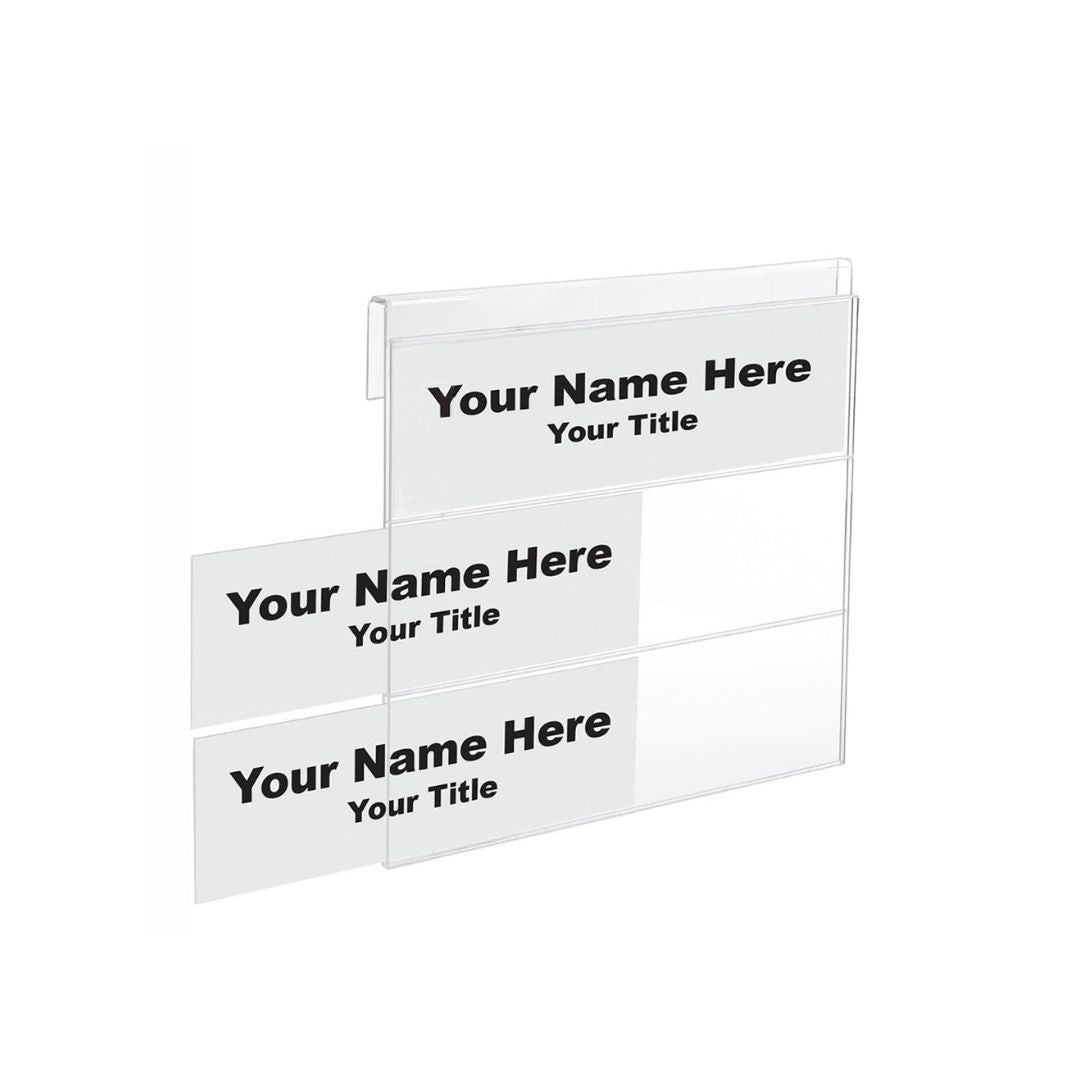 New Product Launch: Multi-Slot Nameplate Holders for Glass and Thin Partitions
Looking for ways to better identify inner-office spaces and where to find them? Plastic Products Mfg's new product launch could be just what you need! Introducing new Multi-Slot Nameplate Holders for glass and thin partitions, an ideal addition to our quality line of acrylic display options. We'll detail those more in a moment, but first let's focus on the newest Nameplate Holder.
Designed specifically for thin/glass partitions, our new Multi-Slot Nameplate Holders come in multiple variations to accommodate your signage needs. They are available with two, three, and four slots. And in several depths – ¼", ½", ¾", and 1". Multi-Slot Nameplate Holders feature polished edges in our durable premium thickness, proprietary acrylic.
They make an especially great fit for workstations with multiple employees and departments. Multi-Slot Nameplate Holders also help point the way as an eye-catching display for directional signs…guidance to exits, cafeterias, restrooms, meeting rooms, and other common internal destinations.
One more plus? Free perforated card stock is included for do-it-yourself insert printing! The Nameplate Holders themselves are easy to install and the free card stock helps you get inserts printed faster to complete the ensemble.
All of our Glass Partition Nameplate Holders are geared for a secure fit on partitions. They deliver function and aesthetic appeal with a modern look to identify individual personnel, departments, and official designations. These dynamic Acrylic Nameplate Holders can also be customized with logos, colors, and branding.
Cubicle Nameplate Holders from Plastic Products Mfg don't require tools to install and once the inserts are printed, simply slide them in place. Each Nameplate Holder serves as a personal spotlight that both captures attention and enhances office décor.
Newly launched Multi-Slot Nameplate Holders are taking signage displays to a higher level…and we'll be glad to show you the best way to guide your foot traffic in crystal clear acrylic!