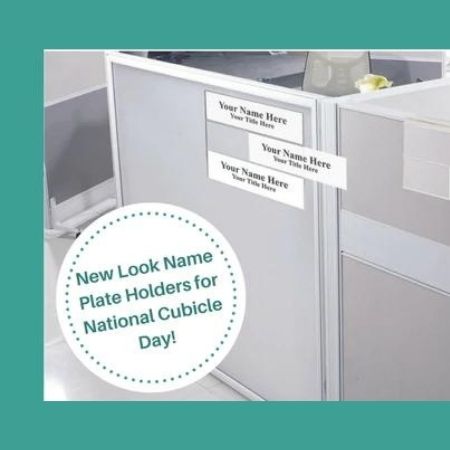 New Look Name Plate Holders for National Cubicle Day!
April 28th marks one of our favorite holidays in the acrylic world. It's National Cubicle Day and this year's celebration should be the best yet with some bold new looks now available in dynamic, upscale Cubicle Name Plate Holders.
But first a little history. Did you know that cubicles were first introduced in 1967 to subdivide office space and afford workers more privacy? Robert Propst was the designer of these modular systems that were created for easy reconfiguration. While not known for exemplifying individuality, cubicle options today have grown to accommodate worker "pods" for groups.
For those who still feel confined in a small compartment, Cubicle Day represents an opportunity to stand out and customize cubes to reflect each worker's individuality.
That's where new styles in Tiered Cubicle Name Plate Holders, Sign Holders, and Sign Frames enter the picture.
New options in acrylic like the Multi-Tiered PNHL and distinguished pattern choices for inserts are taking ordinary cubicles to levels anything but run-of-the-mill. Plus, they are no longer just showcases for "John Doe, Marketing VP." Multi-Tier Cubicle Name Plate Holders, for example, offer ideal Combination Suite identification capabilities. You can make a statement in personal staff identification and show directional signage for passing foot traffic.
How about a double-sided view that stands above the cubicle? The PNHT2 Cubicle Name Plate Holder fits snugly over cubicle/partition walls with the clear acrylic Name Plate sitting atop, offering a view from both sides of the wall.
Another innovative design making professional cubicles far from blasé? CSHL Cubicle Sign Holders and Sign Frames provide larger literature presentation alternatives for events, promotions, announcements, calendars, and emergency info.
Check out new patterns you can mix-n-match along with font choices that stand out…a unique way to make every day a happy National Cubicle Day!