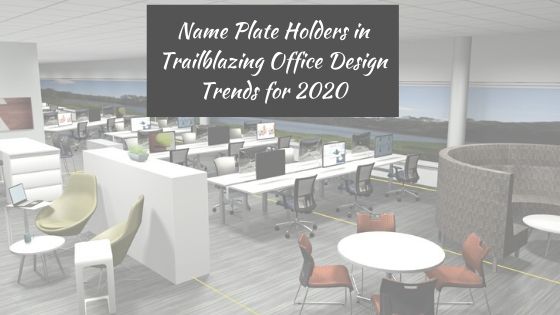 Name Plate Holders in Trailblazing Office Design Trends for 2020
Is there a boomerang effect taking place in open office designs? Have trendy co-working spaces and communal open-plan offices inspired a revolution in the name of privacy and distraction-free workspaces? There are, at least in part, some office design trends pointing in new directions and picking up steam heading into 2020.
Forbes Contributor Barnaby Lashbrooke wrote about the shift in office design trends this past August. He quotes Mindspace's Lily Stanger's point that a movement is indeed afoot "towards activity-based workspaces" where employees can choose between different workspaces geared for specific activities.
With this flexibility comes a blend. The unencumbered freedom of open-air floors meets the cool new cubicles of tomorrow, like personalized, soundproof Pods, "Zen Booths," and TalkBoxes. Picture a light, open common space with quiet corners where a worker can focus uninterrupted. Then imagine private workspaces in a modern cubicle…one with adjustable temperature controls, plug-and-play technology, and flexible, ergonomic standing desks.
Whether incorporating either or both, office styles have made an even farther leap away from the traditional desk of yesteryear. Lashbrooke cites 2018 research by MBO Partners, claiming that 4.8 million U.S. workers identified as "digital nomads." Their "location-independent, technology-enabled lifestyle" leaves, as Lashbrooke eloquently puts it, "no doubt the death of the desk has been fueled by the millennial trend for mobile-first nomadism."
Also playing a part in new office looks? Dynamic, attention-grabbing Name Plate Holders, especially styles with bold, colored borders. Polished acrylic edges and border options in black, silver, bronze, and white make inserts stand out prominently! Name Plate Holder styles are available for cubicles/partitions, desktops/countertops…and wall-mount alternatives where desks and cubicles are minimally used. Select orders even come with FREE perforated card stock for DIY insert printing.
One more trend to watch? Third Spaces between workstations and formal meeting rooms. The design is intended to provide a break from the monotony…a place to stand, hold impromptu meetings, and still have access to your personal workstation!