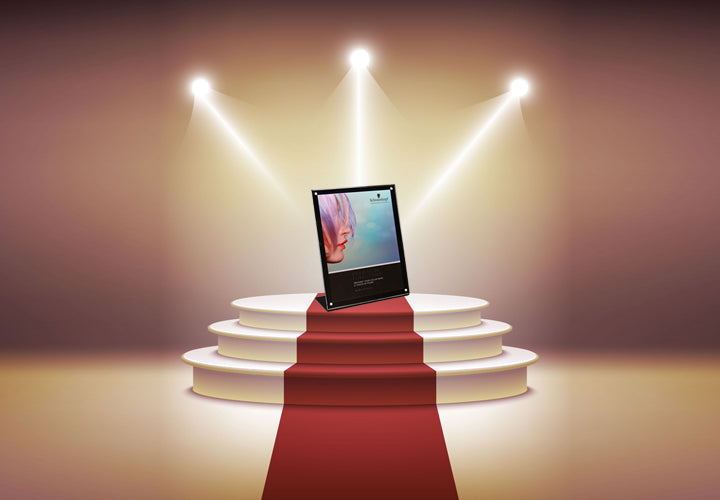 Magnetic Black Sign Holders…THE Summer Blockbuster in POP Displays!
As retailers, foodservice operations, the hospitality industry, and entertainment venues gear up for Summer promotions, a revolutionary new look in POP displays is really getting rave reviews!  Introducing Style A3B Magnetic Black Sign Holders, the latest addition to Plastic Products Mfg's new Magnetic Series.
Summer movie releases are coming soon and Hollywood hopefuls have fingers crossed for the next big blockbuster.  It's that kind of red carpet spotlight that's also turning heads toward this incredibly sharp looking Photo/Sign Holder…a dynamic blend of Clear Acrylic with a Black Acrylic back panel.  Style A3B's Clear Acrylic front panel edges are polished at a 30-degree bevel for added movie star good looks.  Your promotional literature, signs, and photos are placed simply between the two 1/8" thick panels, with four neodymium magnets sealing those panels in place.  The slant-back design creates the perfect angle for grabbing attention and holding it, especially with the stunning Clear/Black Acrylic effect!  The visual appearance speaks for itself.
A strong supporting cast can make a huge difference in both on-screen success and effective marketing.  Eye-catching displays deliver that support in promotional advertising, drawing foot traffic to countertops and tabletops for true revenue-producing results.
But the value of Style A3B goes beyond aesthetic appeal.  That 1/8" premium thickness is tough and durable for the long haul, making your investment a sturdy one.  It's also flexible so your custom sizing requests are easy to accommodate going into the manufacturing process.  Strong Acrylic stands up to hard knocks and maintains that crystal clear viewing acuity with high resistance to scratching, smudges, and cracks.
By the way, curious what's hitting the theaters over the next few weeks?  Johnny Depp's back in the next Pirates of the Caribbean installment and a new Baywatch team led by The Rock heats up the beach for the big screen.  Wonder Woman is getting a lot of attention; Tom Cruise and Russell Crowe are featured in Universal's reboot of The Mummy.  Action?  Check out King Arthur: Legend of the Sword.  Comedy?  Amy Schumer and Goldie Hawn team up in Snatched.  There's plenty of horror flicks like 47 Meters Down, 2017's take on Jaws.  The third Cars and Despicable Me should also be huge draws with kids and families.
Want to take your Summer big-ticket sales promotions to blockbuster heights?  Give them the perfect backdrop for your audience.  Magnetic Black Sign Holdersoffer ideal screens with a magnetic combination of clear and black acrylic.  And that enhanced visual appeal can also be a major benefit at non-profit Summer events and fundraisers as well as busy trade shows, outdoor festivals, and special events.  It's time for stars to shine…on the big screen and at your place!