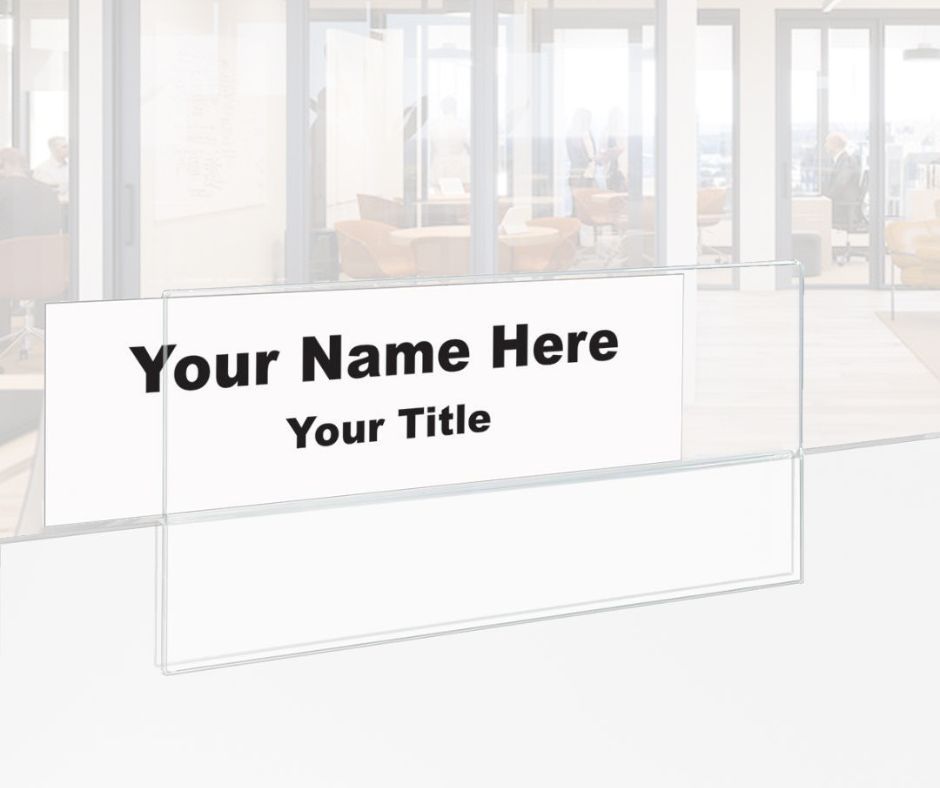 Introducing NEW Elevated Name Plate Holders for Thin Partitions and Dividers
The resurgence of cubicles and divided workspaces has had office managers reaching new heights in Elevated Name Plate Holders, and Plastic Products Mfg.'s ever-so-popular line just got better! Introducing NEW Elevated Name Plate Holders in smaller depths, geared to fit thin fabric dividers and glass partitions.
A classy and eye-catching way to make name and title inserts stand tall, demand for Elevated Partition Nameplate Holders has never been higher. Adapting to accommodate thinner barriers only adds to the allure. As office floor layouts continue to change, our acrylic display products are also adapting. Hence the new configurations in our latest design. This new Elevated Name Plate Holder is available in ¼", ½", ¾", and 1" depths.
Of course, we use only proprietary premium thickness acrylic, geared for re-use and ready for long-term service. Your new Cubicle Name Plate Holder is durable and maintains clarity, luster, and a modern, polished appearance.
Another plus in the value-added department? Perforated card stock is included with qualifying orders FREE! It's a money and time-saving bonus allowing you to print your name/title inserts on-site. You can even get creative with fonts and colors.
Our Elevated Name Plate Holders have always been manufactured to precise specifications to fit specific barriers and cubicle wall sizes, providing easy installation out of the box. With individual name plates standing above the maze of dividers, personal identification goes from a frustrating mystery to an easy accomplishment!
Do you have questions about depth sizes and measurements in Elevated Partition Nameplate Holders? Just consult with a helpful Customer Service professional and we'll gladly guide you, so you order exactly what you need. And with more compact depths to fit thinner fabric dividers and glass partitions, your elevated display options have never been better!