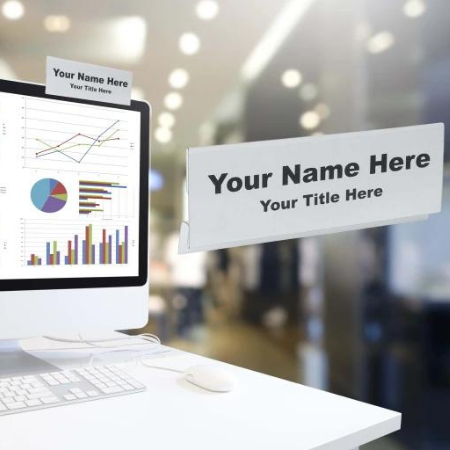 Identify Yourself Clearly with New Computer Nameplate Holders!
New names, new faces, more screen time…does this sound familiar on your job site? In a changing work environment, major shifts are also taking place in the workforce across the country. And sorting out who's who is a new challenge that's easily overcome…as long as you have the right Computer Nameplate.
The ongoing effects of COVID-19 on the workplace are coinciding with a worker migration reminiscent of off-season free agent movement in professional sports. Remote and hybrid work models are still a factor. Social distancing has led to modified on-site floor plans for those returning. Difficulty connecting with fellow workers in these various circumstances is not surprising.
Yet regardless of where one's station is located during work hours, there is a simple alternative for clearly ID'ing and recognizing individuals. Check out the latest in Computer Nameplate Holders, now available with FREE Perforated Card-stock!
From crunching numbers to Zoom brainstorming sessions, staying connected through technology is essential, which goes without saying. This is the time for new faces to identify with one another, using Clear Vinyl Computer Nameplate Holders as the showcase. Our Computer Nameplates attach easily to monitors, delivering superior visibility in a durable, cost-effective material. Best of all, these Nameplate Holders draw attention in standout fashion!
Another convenient benefit? Computer Nameplate Holders are exceptionally user-friendly. They're available in a variety of depths to accommodate practically any computer monitor. No tools are required for fast installation/attachment. Plus, we make it easy for you to print your own inserts…saving you time and money!
Here's how. White Perforated Card-stock is included with your Computer Nameplate Holder order FREE, so you can print your own name/title inserts. No need to wait on third party printers. Your Computer Nameplates become instantly ready for identification duty with this bonus added value.
Welcome back your crew with an attractive display that's also economical. Vinyl Computer Nameplate Holders with Perforated Card-stock make it happen!