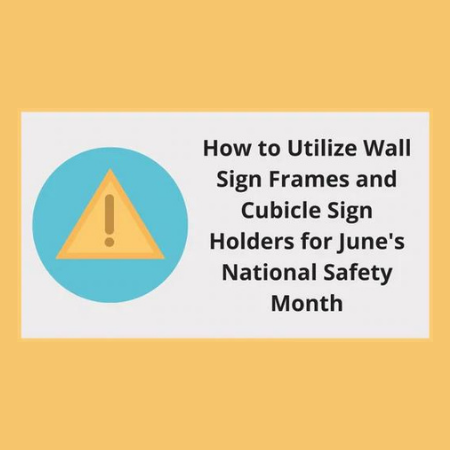 How to Utilize Wall Sign Frames and Cubicle Sign Holders for June's National Safety Month
June 2021 marks the 25th National Safety Month and it's especially significant as we emerge from the COVID pandemic. National Safety Month is observed annually by the National Safety Council and thousands of participating organizations, typically with themes revolving around injury prevention and how to save lives. Its messages are geared for workers on the job, families in the home, and the community at large.
Now the safety message extends to protection against unseen foes…like viruses. Relaying safety information is more vital than ever as businesses and offices reopen. And displays like Cubicle Sign Holders and Wall-Mount Sign Holders are an essential way to convey safety details, information, and instructions around the office and anywhere foot traffic passes most frequently.
This year's National Safety Month is highly focused on safe workplaces. In fact, week 2 is dedicated specifically to the role of employers in returning remote workers to physical work-spaces. Topics like mental health support and vaccination information are two highlights.
We should also add that Acrylic Sign Holders make the dissemination of this vital print information extremely effective. They're easy to install and relocate to areas where they are most easily seen in traffic flow. Both Wall-Mount Sign Holders and Cubicle Sign Holders deliver that kind of versatile usage. Fixed at eye level, acrylic clarity makes printed materials easy to absorb. And premium thickness makes them tough and sturdy.
As COVID restrictions become increasingly looser in June, more people will be depending on proper signage for guidance. Just as was the case last year when the pandemic hit high gear. And while Sneeze Guards and Acrylic Splash Shields might stay in place, new utilization of changing signage can make this a perfect time to invest in new Acrylic Sign Holders to spread the word!
One more thing about National Safety Month's 25th anniversary. You can recognize a "safety hero" of your own with a donation through June (www.nsc.org/work-safety/get-involved/national-safety-month) and it will be matched up to $25,000!