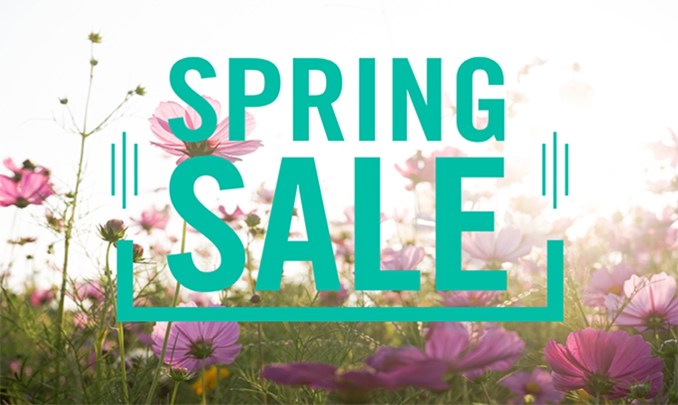 How to Run a Spring Sale!
There's more than flowers, plants, and trees blooming this time of year. Now is also the time when Spring Sales blossom and 2018 Spring Sales are being greeted especially well. For many consumers, an especially late winter kept many from shopping earlier, and more are willing to spend in a relatively quiet, stable economy.
There are several ways to create a successful campaign both online and in retail environments. One piece of advice from Creative Resources "Threadless" revolves around the use of "lifestyle photos." In apparel sales, for example, light materials and short sleeves go hand-in-hand with models on skateboards or playing volleyball. It connects an image of warm weather fun with the latest in comfortable clothing.
Add incentives! After all, it's not really a Sale if you don't offer special enticements. Strategic lower pricing on select items gives customers a real money-saving benefit they can sink their teeth into. Consider adding free shipping.  Once you're earned the confidence of a customer, he or she is bound to spend more…gladly.
Another tip: don't neglect the importance of social media. Food trucks draw lines of devoted followers with a simple post. You can, too. Plus, there's a new breed of "Influencers" you can reach out to…bloggers, Instagrammers, and online personalities with legions of devotees themselves.
Brick-and-mortar operations can also benefit from strategic displays and placement of sign holders and point-of-purchase (POP) literature holders. Curved Sign Holders are a prime example. Their clear and black acrylic panels with metal standoffs draw attention in a classy, upscale display.
Swivel base acrylic Sign Holders also capture the eye, bringing focus to your Spring Sale promotions in a unique, modern presentation.
One more consideration: Memorial Day Weekend marks the unofficial start of summer…make those Spring Sale products, promotions, and incentives even juicier with weekend getaway offers and irresistible theme park family bonanzas!