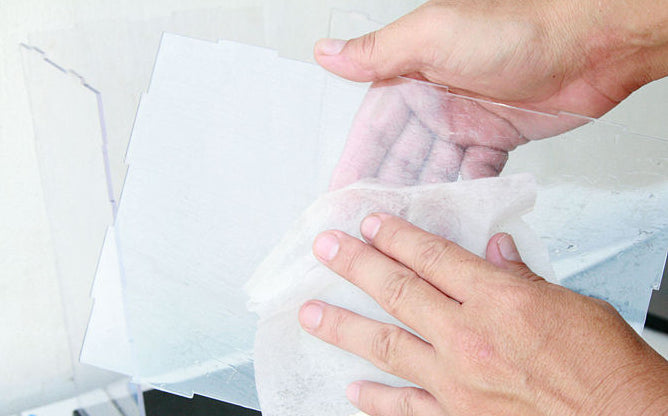 How to Properly Clean Plastic – Best Tips and Methods
With proper care, you can extend the life of your plastic products like Sign Holdersand Poster Holders indefinitely. Keep them clean and you'll get a great return on your investment. But watch out because some common cleansers and methods you'd THINK would work can actually do more harm than good. So save the Windex for windows and try the following instead.
Start with the basics. A simple mix of mild soap or detergent with warm water and a light touch with a soft cloth is very effective. Give your acrylic a thorough rinse and dry it by blotting with a damp cloth or chamois to avoid residual spots and marks that can interfere with the clear visual acuity. Be sure to avoid those window cleaning sprays, abrasives, and/or kitchen cleaners. The composition of acrylic sheet is more sensitive than you might realize no matter how tough the sheet itself…and seemingly harmless household and industrial strength cleansers can be damaging. Other solvents like acetone, alcohol, carbon tetrachloride, and lacquer thinner can also leave scratches and weaken the sheet's structure, causing it to crack.
This is where specially formulated plastic polishes can enhance surface gloss. Novus Plastic Polishes, for example, contain no harsh chemicals or abrasives and leave a lustrous shine. Applied with a Polish Mate Polishing Cloth, your acrylic POP Displays will maintain a well-buffed, crystal clear appearance…and so will the promotional materials they're designed to showcase. No fading, no hazy reflection. Non-abrasive Polish Mate Polishing Cloths also eliminate dust-attracting static.
Of course, scratches can still occur no matter how diligent your level of care. In that event, it's time to break out the Novus 2 Fine Scratch Remover…or for heavier abrasions, Novus 3 Heavy Scratch Remover. These acrylic-specific solutions contain restorative properties that are extremely effective at scratch and abrasion removal.
When it comes to projecting a professional image and presentation, it's important to keep your acrylic display products clean and polished. With a simple, careful, and consistent cleaning approach and the right polishes, scratch removers, and polishing cloths, your acrylic display products can keep their like-new appearance – devoid of haze, discoloration, fading, fingerprints, residue, and scratch marks. You can order Novus products at http://www.plasticproductsmfg.com/Browse-Catalog/Novus-Plastic-Polish-Cleaner/ and if you have questions, just ask a PPM Customer Service Specialist. We'll show you how to make your next campaign look just as amazing as the last one!